Mexican Street Corn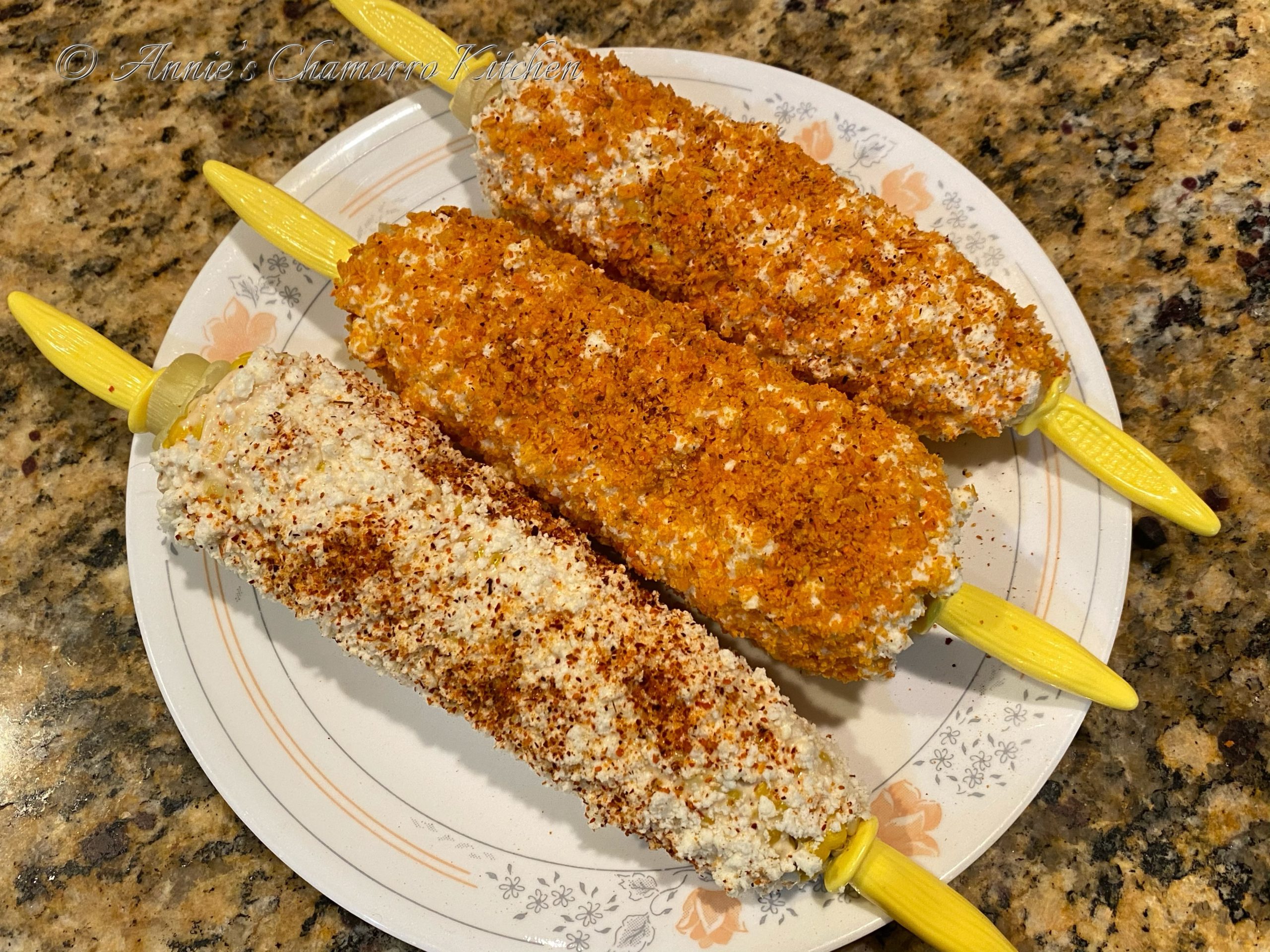 There's something about eating grilled corn that makes it feel like summer as well as making a BBQ all that more exciting and delicious!
One of my favorite ways to eat corn on the cob is what's called elotes or Mexican street corn. It's grilled corn slathered with a mixture of Mexican crema and mayo, then covered in salty, yummy cotija cheese.  There are a few restaurants and local vendors here in town that make this, but why go out and buy it when you can make it right in your own kitchen?
Crema looks like a more watery version of sour cream, bit it is actually similar to Crème fraiche as it has a higher butterfat content than sour cream and is less acidic.
Cotija is a hard, crumbly Mexican cheese that is made from cow's milk that resembles feta cheese.
To make this deliciousness, start by cooking your corn.  You want it cooled enough so that the crema-mayo mixture adheres to it without melting from the heat of the corn.
Add the crema to a small bowl.
Add the mayo.
Add the garlic and onion powders.
Add the tajin.
Stir to mix.  Set aside.
If your cotija cheese comes in a block or wedge, you need to crumble it.  You can use a food processor to do this, or if you're like me and don't want to dirty extra dishes or utensils, crumble it with a fork.
If you want an extra special touch to your corn, try adding your favorite crushed chips.  I used Doritos here.  Place the chips in a quart-sized resealable bag, about 3/4 full.  Use whatever you have on hand to crush the chips — a mallet, a can of soup, your fist — whatever works.  You want small crumbs, but don't pulverize it into a powder.
Pour the chips out onto a plate (it makes for easier coating if on a flat surface).
Now the fun part begins.  Take one ear of corn and slather it liberally with the crema-mayo mixture.
Roll the covered corn in the crumbled cotija cheese.  Use a fork to really get the cheese stuck onto the crema-mayo.
If you're not feeling adventurous and don't want to add crushed chips, that's perfectly fine.  You can sprinkle on more tajin and call it good.
Or, go all-in and roll your elotes in some chips! Yeah, baby!  This is some good stuff, right here!
My recipe is enough to make four elotes.  Give it a try.  I think you'll like it.
Mexican Street Corn
Author:
Annie @ Annie's Chamorro Kitchen
Ingredients
⅓ cup Mexican crema
⅓ cup mayonnaise
2 teaspoons tajin
1 teaspoon onion powder
1 teaspoon garlic powder
1 cup cotija cheese, crumbled
1 cup crushed chips, optional
Instructions
In a small bowl, stir together the crema, mayo, tajin, onion powder, and garlic powder.
Slather the crema-mayo mixture over cooked and cooled ears of corn.
Roll the crema-mayo covered corn in the crumbled cotija cheese.
Roll the cheese-covered corn in the crushed chips if desired.