Herb Crusted Salmon with Wild Rice and Lemon Balsamic Salad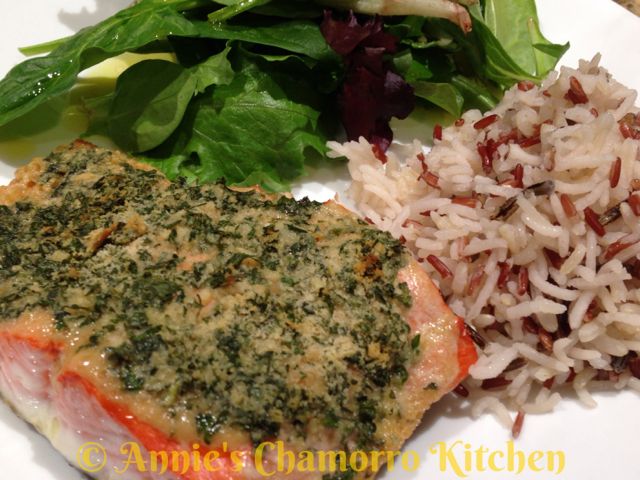 With the Lenten season upon us, I'm looking for opportunities to cook my favorite seafood different ways.  One of my favorite types of seafood is salmon.
This is a very simple meal that's healthy and delicious.  I know it's expensive (unless you're a fisherman/woman and catch the salmon yourself), but if you can, use wild caught versus farm raised salmon.  Without coming off sounding like a nutrition-nazi, suffice it to say that some (not all) farm-raised fish are grown and raised commercially in tanks or controlled pens.  Due to the compact farming environment, these fish tend to have more artificial dyes, antibiotics, toxins and MORE FAT than compared to the wild-caught varieties.
Okay, I'll get off my soap box now.  But seriously, like my daughter said, you can't put a price on your health, can you?
Serve the salmon with Wild Rice and a side salad with my delicious Lemon Balsamic Dressing and you've got yourself a delicious and healthy meal. (Click here for my Wild Rice recipe, and here for my Lemon Balsamic Salad Dressing recipe.)
Give my recipes a try.  I think you'll like them. 🙂
Herb Crusted Salmon with Wild Rice and a Side Salad with Lemon Balsamic Salad Dressing
Ingredients:
3-4 pounds wild caught salmon, cut into filets (about 7 or 8 filets)
4 tablespoons olive oil
1 tablespoon chopped garlic
4 tablespoons tahini
1 teaspoon salt
4 tablespoons coconut flour
6 tablespoons dried parsley (or use fresh)
Freshly ground pepper, to taste
Directions:
1.  Line a baking sheet with parchment paper.  Place the salmon filets on top of the parchment paper.
2.  Mix the olive oil, garlic and tahini together.  Rub the mixture all over the top of the salmon.
3.  In a small bowl, mix together the salt, coconut flour, dried parsley and black pepper.  Sprinkle the mixture over each salmon filet.  Use your hand or the back of a spoon to press it into the tahini mixture.
4.  Bake at 450 degrees for 10-12 minutes.
5.  When the salmon is done, serve with Steamed Wild Rice and a side salad (about 1 cup of mixed greens and sliced onion) drizzled with Lemon Balsamic Salad Dressing.
ENJOY!