Buñelos Dågu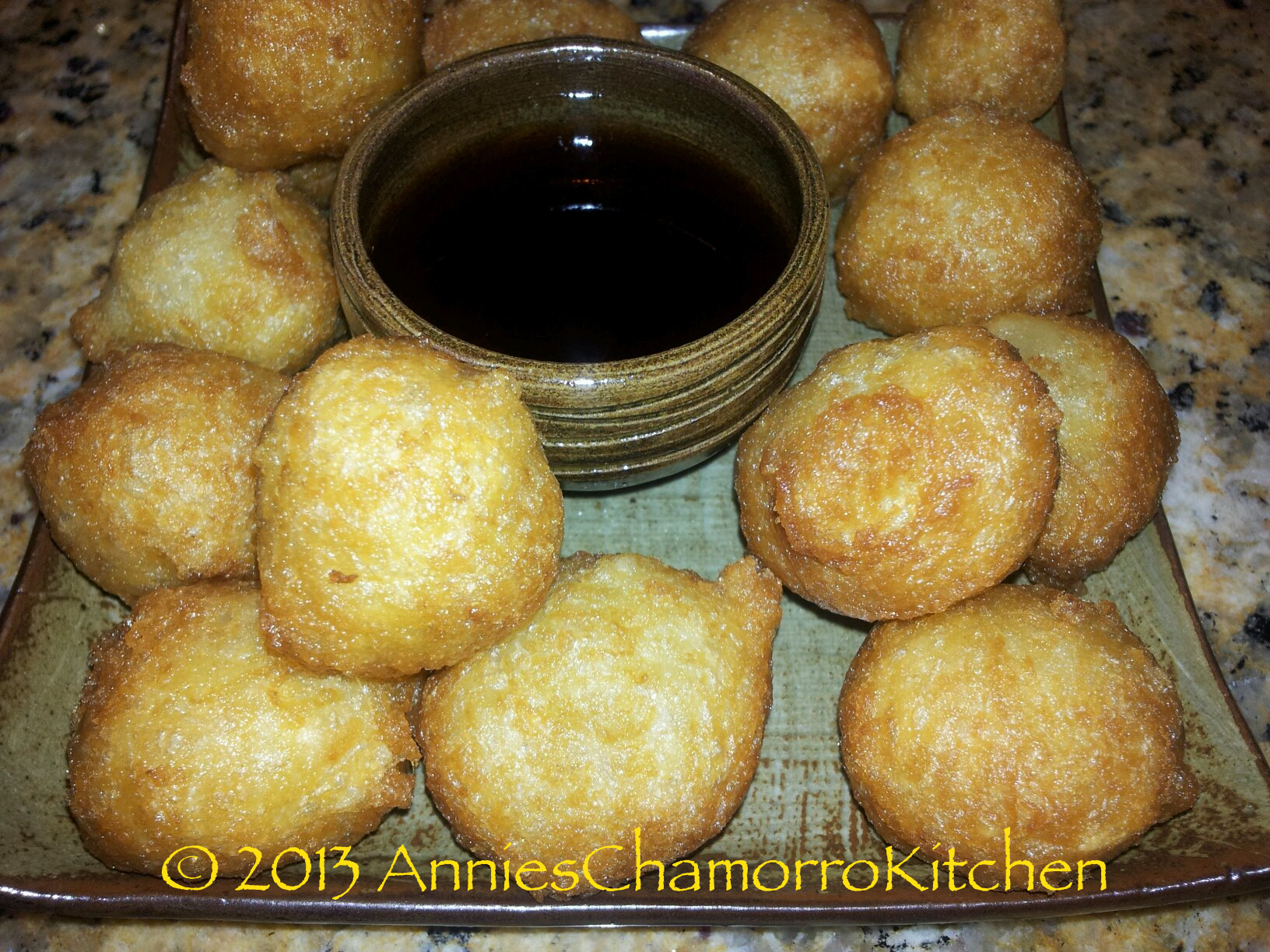 If you had to list your favorite Christmas food, what would they be? I'd have too many to list since I have quite a few favorites, but up near the top would be Buñelos Dågu.
A delicious treat, these fried yam donuts, or Buñelos Dågu in Chamorro, are synonymous with Christmas. This is perhaps because the yams are harvested during the Christmas season.
There are several varieties of yams that you can use to make these donuts. If you live on Guam or the other Mariana Islands, you can use Dågu, Nika, or Gadu'. There are also both White and Red varieties of Dågu (called Dågun Å'paka' or Dågun Agaga', respectively).
Donuts made with dågu tend to be brownish in color after frying. Nika donuts are much lighter, a golden brown on the outside and creamy white in color on the inside. While I like both types, I prefer Nika donuts.
Living in the states, I found a great substitute for the white yams we know on Guam as Nika. It's called Nahme (pronounced nah-may) Root in some Asian Stores. I've even seen it called Namee or Nami. If your local Asian market doesn't have it, check the Hispanic stores, or ask the store manager to order some for you.
This is what Nahme looks like.
If you're lucky, you can find some dågu as well. They are quite large, and look like monstrous hands with lots of "fingers". Here's a photo of dågu.
Aside from making donuts with the yams, you can cook them as you would potatoes. Yams are delicious cooked in a chicken stew or kådu with coconut milk.
You don't have to wait for Christmas to have these delicious donuts. Visit your local Asian or Hispanic store and buy some yams then give my recipe a try. I think you'll like it. 🙂
Buñelos Dågu
Ingredients:
2 ­pounds yam (Namee, dagu, etc.)
1/2 cup all-­purpose flour
1/4 cup sugar
1 tablespoon baking powder
Oil for frying
Directions:
1. Heat oil in a frying pan; the oil should come to about 1 inch in depth.
2. Peel skin off the yam. Using the fine part of a box or hand­held grater, grate the yam into a mixing bowl.
When grating the yam, your skin might be mildly irritated. The scientific explanation for this is that most yams contain oxalate crystals which can irritate the skin, mouth and sometimes tongue. I get around this by wearing plastic gloves when I grate the yams.
3. Mix in the flour, sugar, and baking powder.
4. Drop batter by heaping tablespoonful into the hot oil. Fry until golden brown, turning frequently to ensure even browning on all sides.
Modern conveniences make it so easy to drop the batter into the oil. Back home on Guam, we'd scoop up a handful of batter then squeeze out dollops between our thumb and pointer. It sounds difficult, but it's actually quite easy to squeeze it out from between your fingers. It just takes practice. If you can't get the hang of forming them this way, use a small ice cream scoop (the 1-tablespoon sized scoop). Dip the scoop in water then scoop out some batter; the batter will slide right out and not stick to the scoop.
5. Serve with maple syrup or a simple syrup.
To make a simple syrup: in a microwave safe cup or bowl, mix together 1 cup of sugar with 1/4 cup water. Microwave on high until the sugar is melted. Stir thoroughly. Let the syrup cool slightly before using.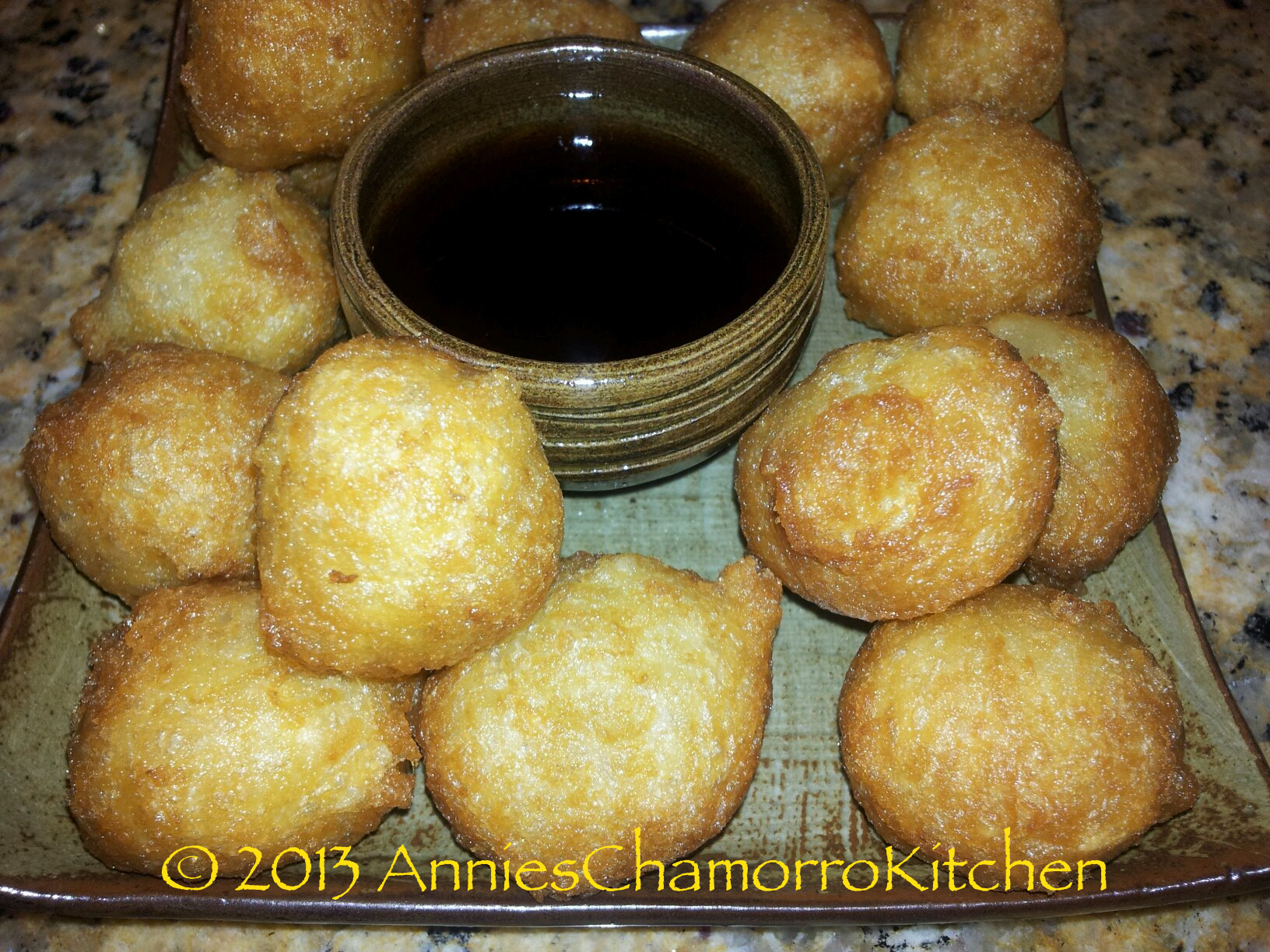 ENJOY!