Fruit Pizza with a Sugar Cookie Crust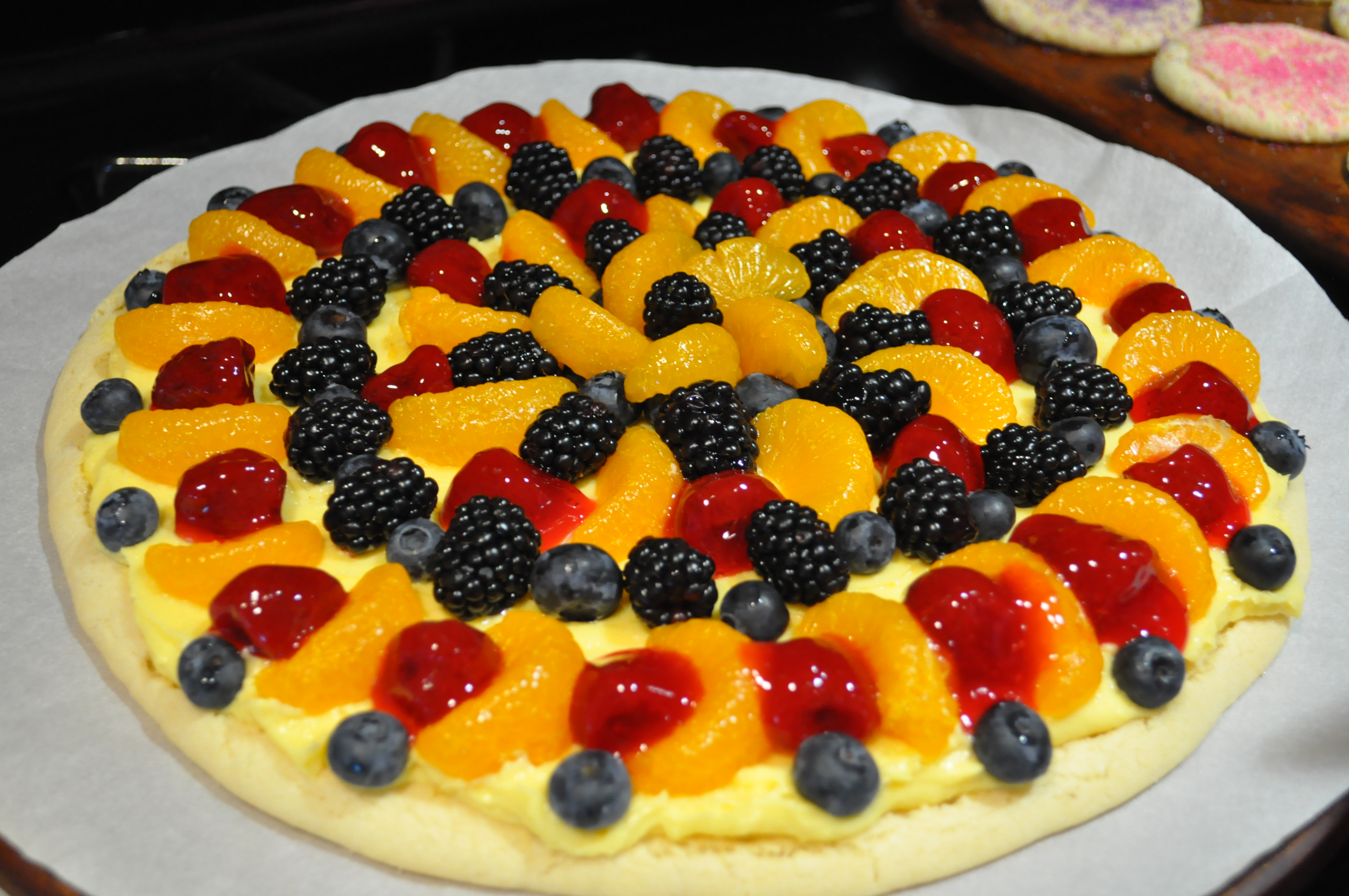 One of my favorite desserts is a fruit pizza.  My recipe uses a soft sugar cookie crust with a creamy vanilla filling.  Top this delectable dessert with your favorite fruit and voila! ~ you'll have a dessert that will keep you coming back for more!
Give my recipe a try.  I know you'll love it! 🙂
Fruit Pizza with a Sugar Cookie Crust
Ingredients:
Cookie Crust:
Note: This dough makes enough for two pizzas, OR one pizza and a dozen sugar cookies, OR you can make two dozen sugar cookies.
2 1/4 cups all purpose flour
1/2 teaspoon baking soda
1 teaspoon baking powder
1/2 teaspoon salt
1 1/2 cups white, granulated sugar
2 ounces cream cheese
6 tablespoons butter
1/3 cup vegetable oil
1 large egg
1 tablespoon milk
2 teaspoons vanilla extract
Filling:
*Note: double the following ingredients for the filling if you are making two pizzas
8 ounces cream cheese
1 cup white, granulated sugar
1 large box instant vanilla pudding mix
1 cup milk
1 teaspoon vanilla extract
Topping:
Any fruit of your choosing, sliced.
For this particular pizza (see the photo), I used:
1 can strawberry pie filling (use only the strawberries, not the thick sauce)
2 cans mandarin slices, drained
1 container fresh blueberries
1 container fresh blackberries
Other items needed:
Parchment paper, cut to fit the size of your pizza or baking pan (go to Tips & Things for my instructions on how to cut parchment paper to fit your round baking pan)
Directions:
Make the crust:
In a small bowl, mix together the flour, baking soda, baking powder, and salt. Set aside.
Place the sugar in a large mixing bowl. Break the cream cheese into small pieces then add to the mixing bowl.
Melt the butter; pour into the mixing bowl while still hot. Using a whisk, mix the sugar, cream cheese and butter together until somewhat creamy (the hot butter will melt the cream cheese this is what you want to happen).
Next, add the oil; continue whisking until the mixture is nice and creamy.
Add in the egg, milk, and vanilla extract. Whisk until all ingredients are thoroughly combined and the mixture is smooth and creamy.
Using a spatula or large mixing spoon, fold in the dry ingredients. Stir only to the point where you don't see any large clumps of the flour mixture.
Line your pizza pan with parchment paper. Using either your fingers or a rolling pin, press the dough onto the parchment paper lined pan, stopping when the dough is about 1 1/2 inches from the edge of the pan. Bake at 350 degrees for 15 minutes or until the crust starts to become very lightly browned. Set the crust aside to cool then top with the filling then fruit.
Make the filling:
In a small mixing bowl, use a hand mixer to beat the cream cheese and sugar together until creamy. Mix in the box of instant vanilla pudding mix. Slowly mix in the milk and vanilla extract. Mix on medium speed until there are no lumps from either the cream cheese or pudding mix. Set aside.
Top the pizza:
Spread the filling on top of the cooled cookie crust. Top with your desired fruit slices. Serve chilled or at room temperature.
NOTE: DIRECTIONS FOR SUGAR COOKIES:
Make small balls (about the size of a ping pong ball) with the dough. Place onto a parchment paper lined baking sheet about 2 inches apart. Using a small spatula, slightly flatten the balls of dough (don't flatten too much; the dough will expand during baking). Sprinkle different colored sugar sprinkles on top. Bake at 350 degrees for 13 minutes or until the edges of the cookies start to brown lightly. After baking, leave the cookies on the baking sheet for 5 minutes then remove to a cooking rack to finish cooling.
Enjoy!