Chicken Chalakiles
Chicken Chalakiles is one of my favorite Chamorro comfort foods.  It's a soup made with chicken, onions and garlic, thickened with toasted ground rice, and made even more rich with the addition of coconut milk.
Chalakiles can be served as your main dish or as a soup served before your entrée.
I make my Chalakiles the way my mom taught me — with freshly toasted and ground rice.  A quick and easy substitute is to use Cream of Rice instead. Toasting rice is easy.  Place the rice in a skillet over medium heat.  Cook until the rice turns golden brown, stirring constantly to prevent any rice from over-browning (and burning).
Let the rice cool for a few minutes then place in a food processor (I have a mini food chopper/grinder that works well).
Grind the rice into a mixture that looks like cornmeal.  A few large pieces of rice is okay; it will add texture to your Chalakiles once cooked.  Set the ground rice aside.
Place your chicken into a large soup pot.  You can cut the chicken to your desired size.  I diced them small here so that we could have more of a soup. My mom would use chicken drummettes or leave the chicken pieces whole if we served this as a meal.  She'd make it more on the soupy side as well so that we could also serve this with some steamed rice. Cook the chicken with onions, garlic, coconut oil and black pepper.
Once the chicken is cooked through and no longer pink, add chicken broth (or water and chicken seasoning), achote powder, and the ground toasted rice.
Bring the mixture to a boil; cook over medium heat for about 10 minutes (keep the pot uncovered).  Stirring occasionally to prevent the rice from settling and sticking to the bottom of the pot.
This is what the Chalakiles looks like after the rice is done.  The mixture is quite thick at this point, but will thin down once you stir in the coconut milk.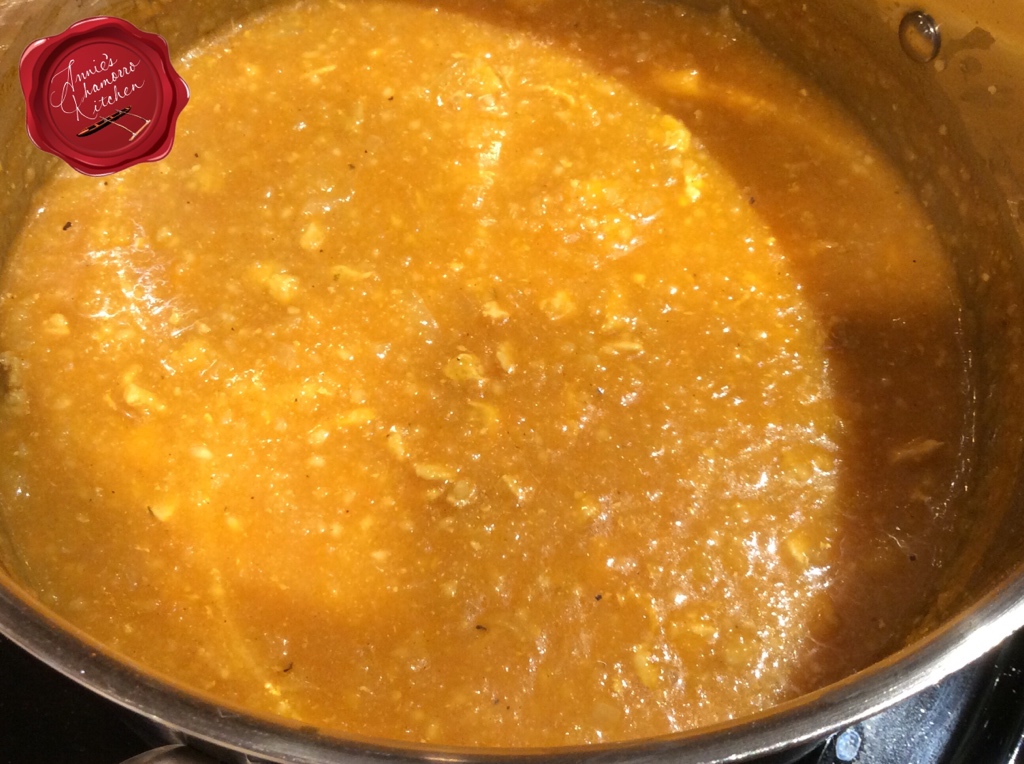 Stir in the coconut milk.  Cook for another couple of minutes, just long enough to heat up the mixture after adding the milk.  Remove from the heat.
If you want a thinner soup, either add more water or another can of coconut milk.  Taste and adjust the seasonings to your liking.
My recipe makes enough for a family of four plus enough leftover for lunch the next day. Serve and ENJOY!
Chicken Chalakiles
A savory soup made with chicken and ground toasted rice.
Author:
Annie @ Annie's Chamorro Kitchen
Ingredients
2 cups uncooked rice
2 boneless skinless chicken breasts, cut into small pieces
3 boneless skinless chicken thighs, cut into small pieces
1 med onion, diced
1 tablespoon chopped garlic
1 tablespoon coconut oil
½ teaspoon black pepper
3 tablespoons chicken seasoning*
10 cups water*
1 packet achote powder
1 can (14-oz) coconut milk
Red pepper flakes, to taste (optional)



*Note: You can use chicken broth instead of water; omit the water AND chicken seasoning if using chicken broth.
Instructions
Place the uncooked rice in a skillet over medium heat. Cook for a few minutes until the rice is evenly browned, stirring occasionally to ensure even browning. Let the toasted rice cool then grind in a food processor until you get the consistency of cornmeal. Set aside.
Place the chicken, onion, garlic, coconut oil and black pepper into a large soup pot. Cook over medium heat until the chicken is no longer pink.
Add the chicken seasoning, water, achote powder and ground rice to the pot. Stir to combine the ingredients then bring the mixture to a boil. Cook, uncovered, for 10 minutes, stirring occasionally.
Stir in the coconut milk; cook for a couple of minutes then remove from the heat.
Serve and ENJOY!