Chamorro Potato Salad
Chamorro Potato Salad is a must-have at any Chamorro gathering.  Your fiesta menu would not be complete without it.
There are several variations to this classic side dish, but Chamorros pretty much make it the same basic way.  We use potatoes (of course) — any kind good for baking, but russets are most common — eggs, black olives, pimentos, sweet pickle relish and mayo (more on this later).
Some people add other vegetables such as celery, carrots, or freshly diced pickles, but I like mine with just the ingredients I listed above.
I like a lot of eggs in my salad.  I usually add anywhere between 8 and 12 eggs for 5 pounds of potatoes.  When I was little, before I knew what I was missing, I would get my mom and sisters to pick out all of the eggs from their potato salad and give it to me — that was all I'd eat out of it, just the eggs.  Now I know better and eat it ALL.  It's so good.
My complete recipe is at the bottom of this post.  Give it a try.  I think you'll like it. 🙂

 Start by squeezing out as much liquid from the relish, pimentos and olives.
If you don't squeeze out as much liquid as possible, your salad will be wet and runny, not to mention died the color of the olives, pimentos and relish.
Who wants to eat a mushy blackish-reddish-greenish concoction?  If that description had you grimacing in disgust, then it served its purpose.  Squeeze out the liquid.  Trust me, you'll be glad you did. 😉
You can dump out all of the contents into a fine-mesh strainer, and using the back of a large spoon, press out as much liquid as possible.  I managed to press out about 3/4 cup of liquid from the relish, and that was BEFORE I used a cloth to really get the liquid out (see more about this technique below).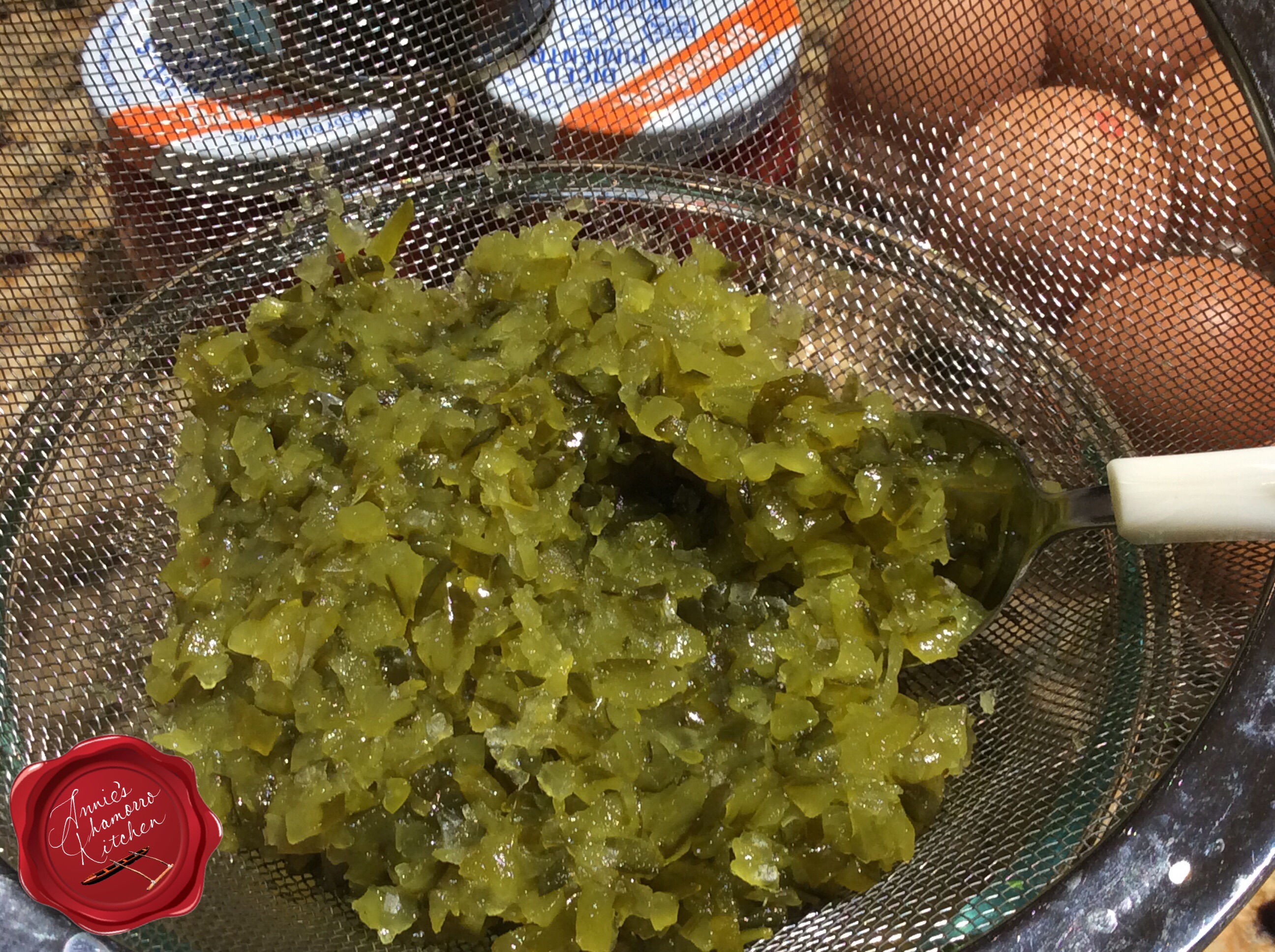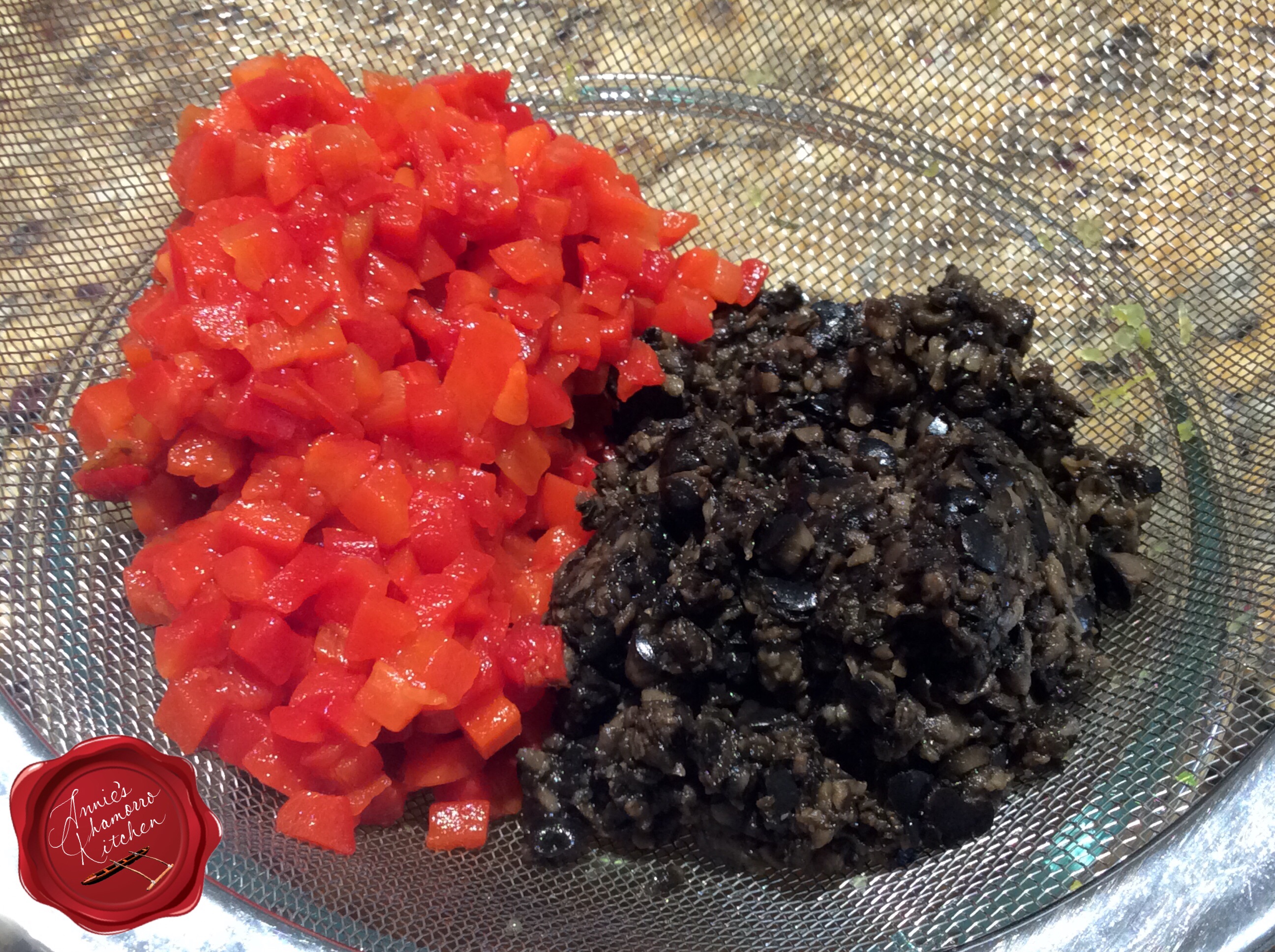 Another option — which is my preferred method — is to place all of the wet ingredients into the center of a clean cheesecloth or kitchen rag (don't use towel-like cloths or you're likely to get strings of fabric into your salad).  Gather the edges of the cloth together, twisting at the top to compress the ingredients.  Squeeze the balled up portion to get out as much liquid as you can.  Keep squeezing until no more (or very little) liquid extrudes through the cloth.
Set the relish, pimentos and olives aside.
Meanwhile, rinse the potatoes and place them into a large pot of hot water.  Add the eggs to the pot.  Bring the water to a boil.  Cook the eggs (in the boiling water) for 10-12 minutes then remove them from the pot.  Keep cooking the potatoes until they are done (insert a butter knife or metal skewer into the center of a potato — if it slides in smoothly and easily, the potatoes are done).

Remove the potatoes from the boiling water.  If you let cooked potatoes sit in water for too long, they soak up too much water, becoming mushy.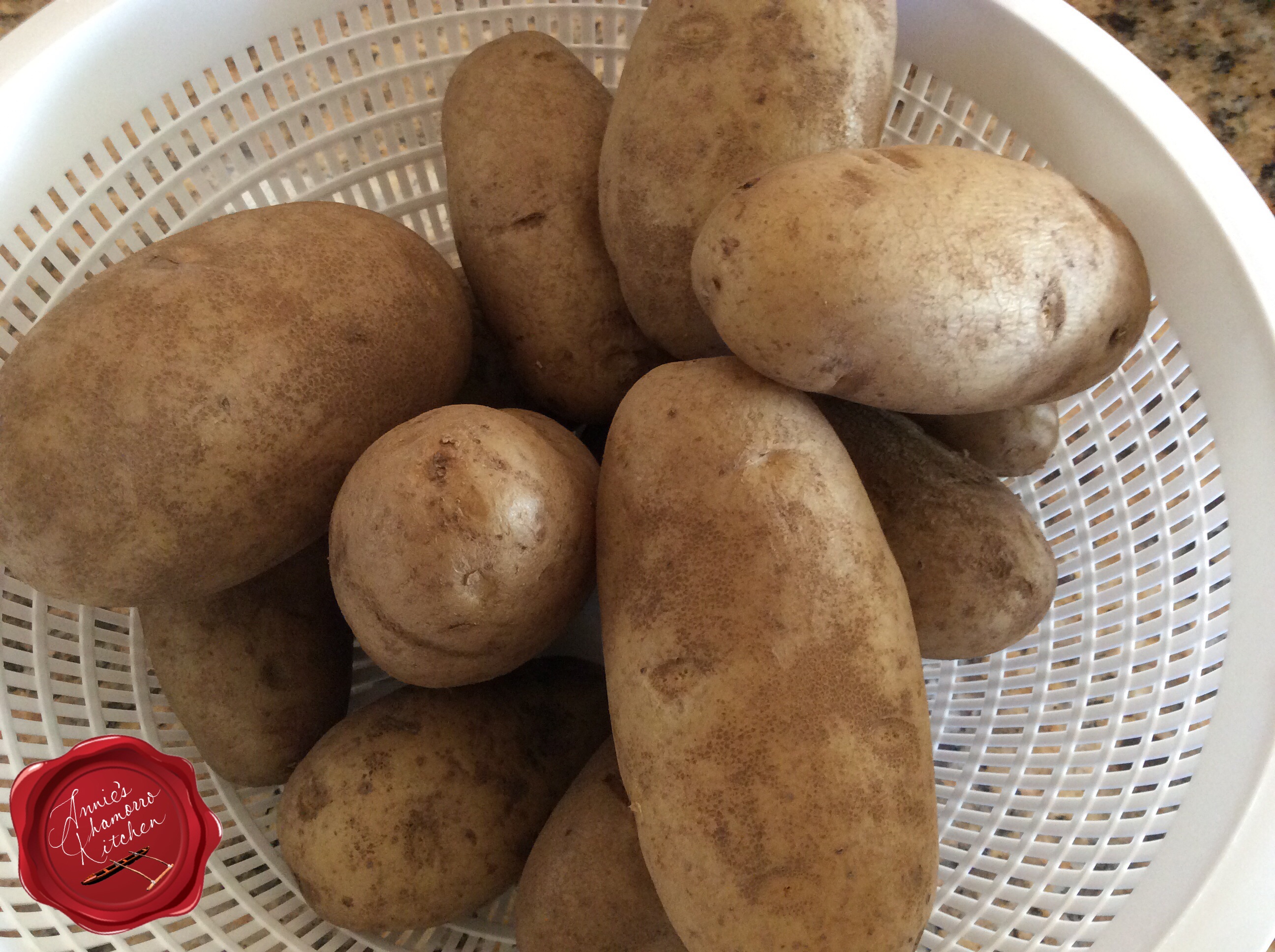 Allow the potatoes and eggs to cool before peeling the skin and shell off.  If you want to decorate the top of your salad, set aside one egg yolk.

Cut the potatoes and eggs into small cubes.  You can make them as big or as small as you like.  Don't cut them too small, however, or you'll end up with a mashed potato salad.

Add the seasonings to the dry mixture — I like adding onion powder, black pepper and salt.  The seasonings get distributed easier with the dry potatoes.  If you add the seasonings after adding the mayo and wet condiments (relish, olives and pimentos), you might get clumps of seasonings that don't get mixed well.
Stir gently to mix the seasonings with the potato-egg mixture.  Taste it at this point and add more seasonings to your liking.  Don't add more salt, however.  Mayonnaise has salt; wait until you mix the mayo into the salad before adding more salt.

Add the relish, olives and pimentos to the bowl.  Stir gently to combine.

Doesn't it look so festive already?  If you like more olives, relish, and/or pimentos in your salad, by all means, add more.  Just be sure to squeeze out as much liquid as you can.
Fold in the mayo.  Chamorros will tell you that you MUST use Best Foods or Hellmann's brand mayonnaise in Chamorro Potato Salad.  I must admit that I hold true to that sentiment as well.  Our classic Chamorro potato salad just doesn't taste the same if you use "Dressing" (aka Miracle Whip).
I like my potato salad a little heavy on the mayo.  Use less if you like your salad a bit more on the dry side.

♩ ♪ ♫ ♬   Ta daaa!  ♬ ♫ ♪ ♩
It's almost done.
My mom ALWAYS decorated the top of her potato salad, even if we were just eating it at home and not serving it at a party or family gathering.

Remember that egg yolk I told you to set aside?  Well, it's time to for it to make its debut.  Place the yolk in a small fine-mesh strainer.
Oh…wait…before you do anything with the yolk, spread a very thin layer of mayo (a couple of tablespoons should do it) over the top of the salad.  This serves as the "canvas" for your egg yolk decoration.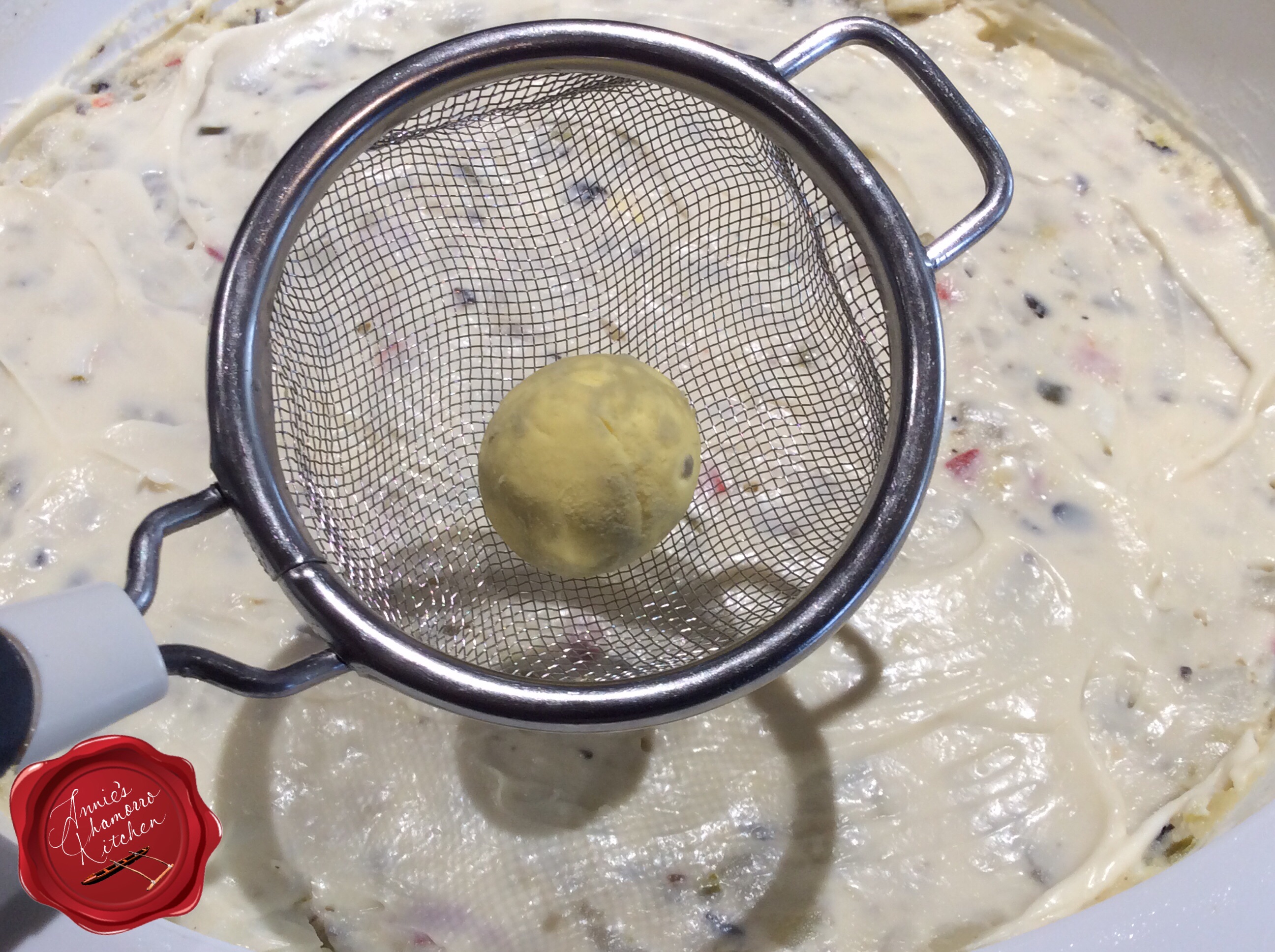 Use a spoon or fork to gently push the yolk through the strainer, creating a "snowfall" of egg yolk over the top of the potato salad.  Mom always saved some pimento and olives to make pretty flowers as well, and she'd make flower stems using celery leaves.  Be as creative as you like.
See, isn't this pretty (even without pimento and olive "flowers")? 🙂
Serve and ENJOY!
My potato salad goes perfectly with Red Rice, BBQ Chicken, Pancit and Diago' Kimchi. 🙂
Potato Salad
A classic Chamorro side dish that is a must-have on your Fiesta table.
Author:
Annie @ Annie's Chamorro Kitchen
Ingredients
5 pounds potatoes
8 hard boiled eggs (set aside one yolk), diced
1 tablespoon onion powder
2 teaspoons salt
1 teaspoon black pepper
1 can (4.25 oz) chopped black olives, squeezed to remove as much liquid as possible
2 jars (4 oz) diced pimentos, squeezed to remove as much liquid as possible
1 jar (10 oz) sweet pickle relish, squeezed to remove as much liquid as possible
3 cups mayonnaise
Instructions
Rinse the potatoes then place in a large pot filled with hot water. Bring the water to a boil. Cook until the potatoes are done (it's done when a knife or fork easily pushes through the potato when pierced). Remove the cooked potatoes from the water; allow to cool completely then peel and discard the potato skin. Cut into small cubes.
Place the cubed potatoes and diced eggs into a large mixing bowl.
Add the onion powder, salt and black pepper. Stir gently to combine.
Add the drained and squeezed olives, pimentos and relish to the bowl. Stir to combine.
Fold in the mayonnaise. Taste and adjust the seasonings.
Serve and ENJOY!