BBQ Chicken Marinade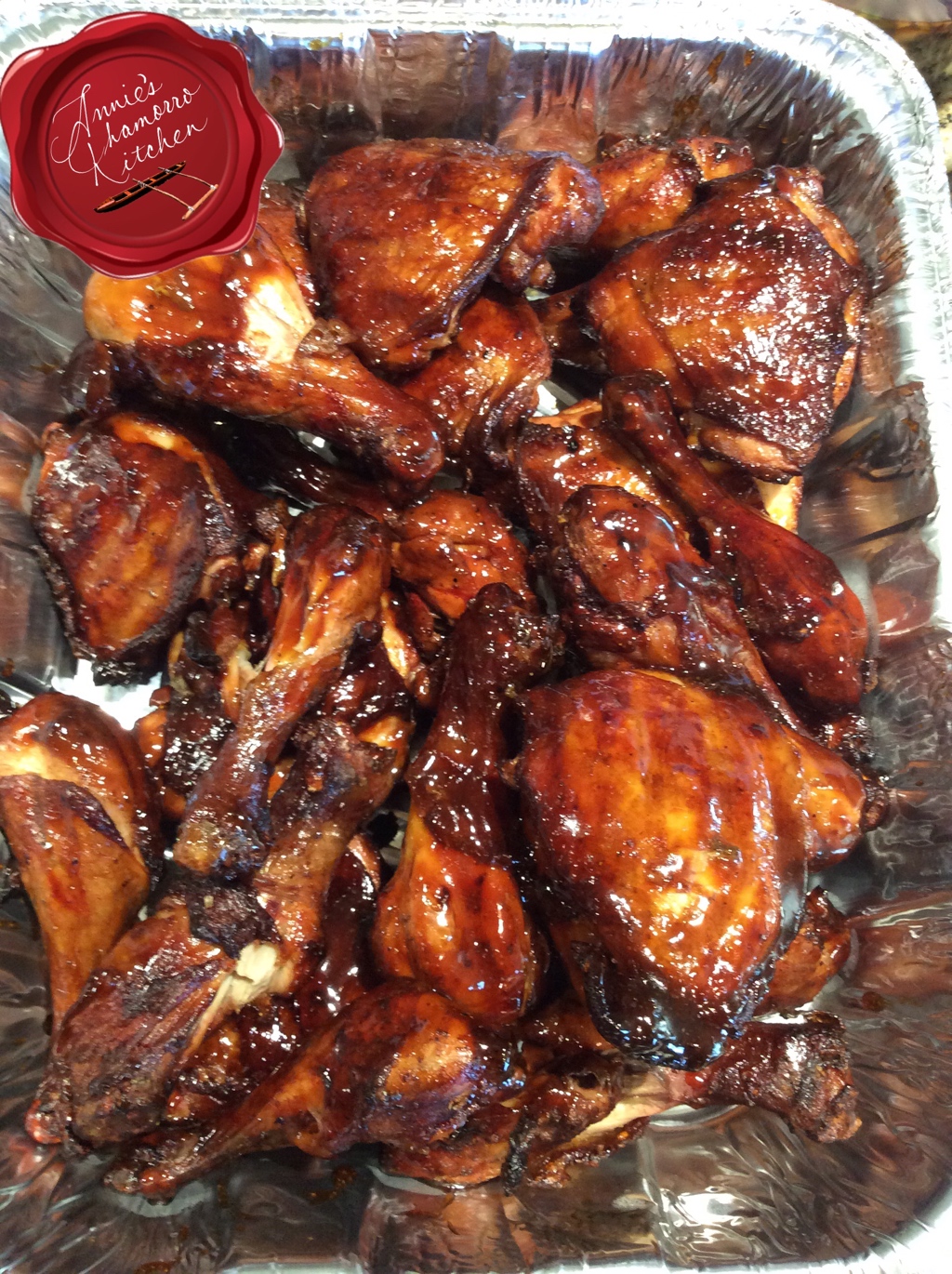 The classic Chamorro marinade is quite simple.  Start off with a base of soy sauce and vinegar — the ratio is up to you, but I like using a 1:1 ratio of soy sauce to vinegar (e.g., 1 cup soy sauce mixed with 1 cup vinegar).
I also add a few other ingredients to my marinade to give it an additional depth of flavor.  What you add depends entirely on you, so you can be as creative as you can here.  Some of my favorite add-ins are garlic and onions (powdered or fresh), ginger, brown sugar (not too much because sugar burns easily), honey, and sometimes even a cup or two of coca cola (use your favorite soda).
Marinate your chicken for several hours or overnight before grilling to allow the marinade to really soak into the meat.  I like using zip lock bags to marinate any meat I plan on grilling.  Just flip the bag over every hour or so to ensure all the meat gets marinated evenly.
Grill the chicken as you normally do.  We have a smoker, so I start off by smoking the chicken  — skin side down — for 30 minutes, then I crank up the heat to 275 degrees and cook the chicken — skin side up now — for about an hour and a half or until it's done and a nicely browned.
Make a smaller (fresh) batch of your marinade (do not reuse the marinade the chicken was soaking in) for glazing the chicken after it's done.  Place the marinade in a small sauce pan and add some corn starch to it.  Bring the mixture to a boil and stir until the sauce thickens slightly.  Brush the glaze over the cooked chicken to give it a beautiful (and tasty) sheen.
Give my recipe a try.  I think you'll love it.
My recipe below makes enough marinade for approximately 3 pounds of chicken.  It's also good for marinating pork chops, ribs, and steaks.

BBQ Chicken Marinade
Classic Chamorro marinade that's sure to make your neighbors come out of their homes wondering what's grilling that smells so good!
Author:
Annie @ Annie's Chamorro Kitchen
Ingredients
Marinade:
1 cup soy sauce
1 cup vinegar
Optional Marinade Additions:
1 tablespoon garlic (powder or minced)
1 teaspoon onion powder (or ½ small onion, finely diced)
1 tablespoon brown sugar
1 tablespoon ginger (ground or freshly grated)
1 cup cola
Glaze:
⅓ cup vinegar
⅔ cup soy sauce
1 tablespoon brown sugar
1 teaspoon garlic powder
1 tablespoon corn starch
Add any of the other optional ingredients used in your marinade
Instructions
Place all of the marinade ingredients in a large zip lock bag. Seal the bag then shake it up to mix the ingredients together. Add the chicken to the bag then re-seal. Marinate the chicken for several hours before grilling.
Place the glaze ingredients in a small sauce pan. bring to a boil, whisking contantly. Cookmuntil the sauce thickens. Brush the glaze on the cooked chicken.