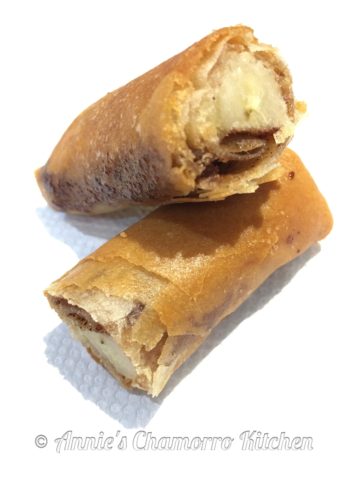 Banana lumpia is a super simple dessert to make.  It requires just a few ingredients — cooking bananas, sugar, cinnamon, and lumpia wrappers.
These are the kind of cooking bananas I like to use.  There are several varieties you can buy.  The one I see at most Asian stores (you can also find them in Hispanic markets as well) are a variety called Burro bananas.  Thai bananas also work well here.  The bananas pictured below are the Thai variety.
You want to make sure the bananas are fully ripe before making your banana lumpia.  They should be a deep yellow with a few black spots.  The bananas will still be slightly firm as well.
To prepare the bananas, peel and slice 6 bananas in half, lengthwise.  Cut each half in half again, lengthwise, giving you four long pieces.  Each piece should be about four inches long.
Set the bananas aside for now while you prepare your lumpia wrappers.  The brand I prefer is Wei-Chuan spring roll shells.  I find they stay crisp longer, and they are very easy to separate, even when partially frozen.
Separate the wrappers, then cover with a clean cloth to keep them from drying out.
To assemble the lumpia, place brown sugar and cinnamon in a small bowl.  Use a fork to mix it all together.
Spread about a tablespoon of the cinnamon-sugar mixture on one corner of the lumpia wrapper.
Lay one piece of sliced banana on top of the cinnamon-sugar mixture.  Another option is to roll each banana slice in the sugar mixture then place the coated banana on the lumpia wrapper.
To roll the lumpia, begin by folding the bottom corner up and over the banana.  Slowly roll upward, sort of like forming a cigar shape.
Fold each side inward, as if you were making an envelope.
Continue rolling the lumpia, as tight as you can, until there are about two inches left of the top corner.
Dip your fingertip in some water then wet the top corner along the edges.  Finish rolling the lumpia over the moistened edge, pressing slightly to seal.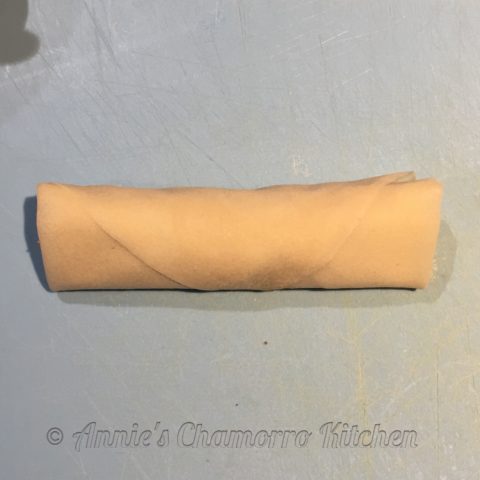 Finish rolling the lumpia.  If you plan on frying them right away, leaving them out is fine.  Otherwise, place rolled lumpia in an airtight container (a resealable bag also works well) and place in the refrigerator or freezer.
To fry the lumpia, heat oil in a large skillet to 350 degrees F.
Carefully add the lumpia to the hot oil, making sure not to crowd the oil.
Fry the lumpia until golden brown. They are ready at this point—as shown in the photo below.  One popular cooking option is to create a caramelized coating by sprinkling sugar over the lumpia as it fries.  I don't particularly care for this as it makes a huge mess in the oil.  If you'd like, you can serve up your lumpia with some caramel sauce on the side (caramel sauce used for ice cream sauce works well) for drizzling or dipping.
Enjoy!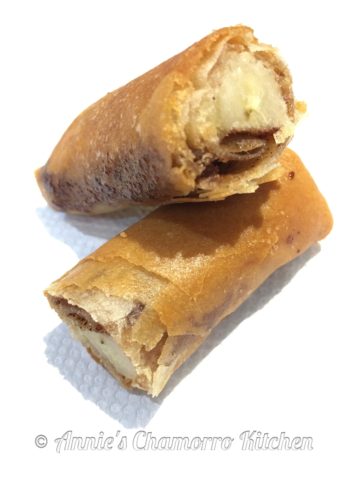 Banana Lumpia
A delicious, crispy dessert made with bananas and cinnamon-sugar, rolled in a lumpia wrapper and fried until golden brown and crispy.
Author:
Annie @ Annie's Chamorro Kitchen
Cuisine:
Chamorro, Filipino
Ingredients
6 cooking bananas, such as Burro or Thai variety
1½ cups brown sugar
1 tablespoon cinnamon

Other:
Water, for sealing
Vegetable oil, for frying
Instructions
Slice each banana in half, lengthwise, then slice each half in half again, lengthwise, giving your four pieces per banana.
Separate the lumpia wrappers.
In a small bowl, mix the cinnamon and sugar together.
Place a tablespoon of the cinnamon-sugar mixture close to the bottom of a lumpia wrapper. Place one slice of banana over the cinnamon-sugar. Roll upward, like a cigar. Fold in the two edges, then continue rolling upward. Rub some water along the top edge of the lumpia wrapper; press to seal.
Fry the lumpia in oil heated to 350 degrees until golden brown. Serve while hot and crisp.
Option: serve with a side of caramel sauce for drizzling or dipping.