Thai tea is not to be confused with Indian Chai.  It's a quite fragrant tea made with black tea leaves and mixed with ground star anise, orange blossoms, ground cloves, and ground cinnamon.  Once brewed, a few drops of vanilla extract adds an additional depth to the already quite fragrant and flavorful tea.
It can be served hot or cold, and with or without milk, cream, or like I prefer it, with half-&-half.
Thai tea is usually served sweetened.  I sweeten my tea with a sugar syrup made with water, brown and white sugar.  You can also use sweetened condensed milk instead of syrup, and evaporated milk instead of cream or half-&-half.  Coconut milk is delicious with this too.
Adding cooked tapioca pearls is not part of the way traditional Thai tea is served.  The addition of the chewy black pearls, or boba, is thought to be of Taiwanese influence.  Black tea with milk and boba pearls added is commonly called "bubble milk tea."
I've only found two establishments that sell bubble milk tea, or Thai milk tea — with boba — that I liked.  One was in Washington state and the other in Nevada.  There is a restaurant here in Colorado where I live that sells good Thai tea as well, but their boba is always too hard and almost inedible.
I wanted to create my own version of Thai milk tea with boba, mainly to control how much sugar and cream (or in my case, half-&-half) I add to it, and to cook the boba just how I like it–soft and chewy, and slightly sweet.
I used to prefer a slushy drink, which is easy enough to do by blending your sweetened milk tea with some ice.  Lately, though, I've come to prefer an iced version, cold but not blended with the ice.  I also found that adding boba to a slushy drink causes the boba to harden faster, which I'm not too keen on since I like the boba soft and chewy.  Both versions are good, though.  I've included some directions on making the slushy version at the bottom of my post.
Give my recipe a try.  It's quite easy to make, and economical too.  Why go out and buy it when you can make it yourself right in your very own home.
My recipe below makes enough for 4 servings (in a tall glass).
Thai Milk Tea with Boba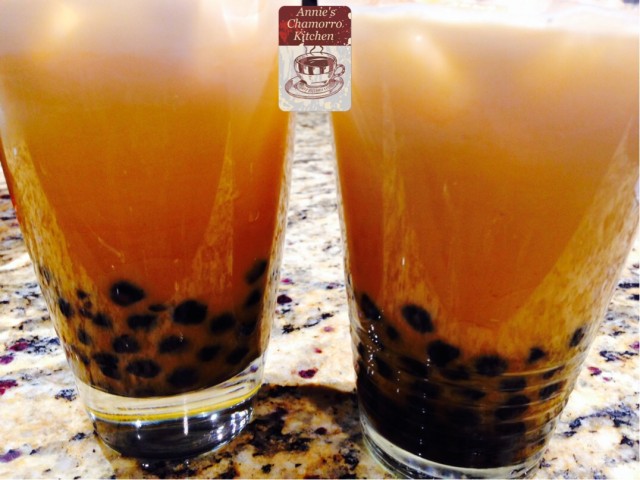 Ingredients for the boba:
3 quarts water
1 1/2 cups dry tapioca pearls
1/2 cup sugar syrup (for soaking the pearls AFTER cooking)
Ingredients for the sugar syrup:
1/2 cup brown sugar
1/2 cup white granulated sugar
1 cup water
*Note: You'll use 1/2 cup of sugar syrup to soak the cooked boba and the remaining syrup to sweeten the tea.
Ingredients for the tea:
4 tablespoons loose (dry) Thai tea mix
4 cups water
2 cups sugar syrup
1/2 cup half-&-half
ice
This is the brand of loose Thai tea mix and tapioca pearls I use.  I tried several brands of instant milk tea mixes and I found them either too sweet or too bland, or too chalky-tasting.
I like Pantai brand Thai Tea Mix (shown below on the left) — it's a loose tea mix that you must steep in hot water.  When I first bought this brand, I knew it was a winner just from the delicious aroma of the dry tea leaves.
I also tried countless brands of tapioca pearls.  My first endeavor making boba was a complete failure because of the brand of tapioca pearls I used.  The "pearls" completely dissolved in the boiling water after only a few minutes of cooking!  I looked at the ingredient list AFTER the fact and discovered they were made from lots of ingredients OTHER THAN tapioca, most of which I couldn't pronounce.  The brand pictured below has three simple ingredients: tapioca starch, water and caramel syrup. That's it.  And it turns into soft, chewy and delicious boba.
Directions:
Cook the Boba.
Place the water in a large pot over high heat then bring to a boil.  Add the boba to the pot all at once.  Cover the pot, keeping the lid slightly ajar.  Reduce the heat to medium and continue to cook (boil) the boba for 35 minutes.  Stir the boba occasionally.
After 35 minutes, turn off the heat.  Stir the boba then cover the pot, placing the lid on completely.  Let the boba steep in the hot water for 25 minutes.  Do NOT uncover the pot.
While the boba is steeping in the hot water, make the sugar syrup.
Place both sugars and water in a microwave-safe bowl.  Microwave on high for 3 minutes. Carefully remove the bowl from the microwave; stir the mixture, ensuring the sugar is completely dissolved.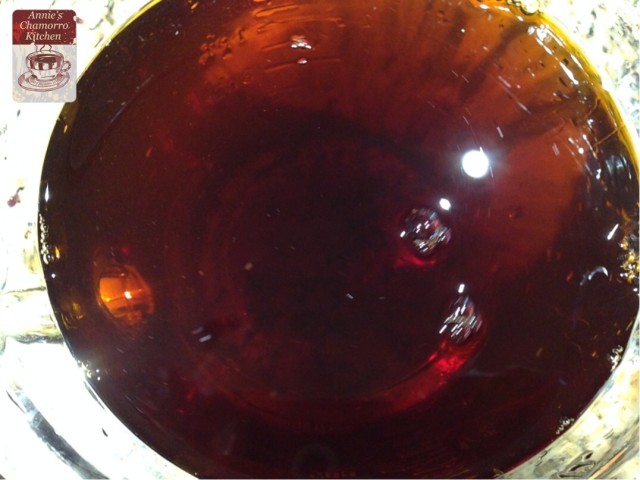 Pour out 1/2 cup of syrup in a small bowl; this will be used to soak the cooked boba.  Set the remaining syrup aside to sweeten the tea.  (I know, I know, the photo below shows only 1/4 cup, but I added more syrup later.)
After steeping the boba for 25 minutes, it's ready to be sweetened.  Pour the boba out into a strainer or colander.  DO NOT RINSE THE BOBA.
Place the warm boba in the small bowl with 1/2 cup of syrup.  Soak the boba in the syrup for 15 minutes.  While you're waiting, make the tea.
Bring 4 cups of water to a boil.  Place the tea mix into a tea infuser/basket.  If you have a tea sack, you can use that as well.
Seal the basket and place into the hot water.  Let the tea steep for 15 minutes.  If you want stronger tea, prepare this first to allow the tea mixture to steep longer, up to an hour.
When the tea is done steeping, you'll need to strain out any tea leaves that got into the liquid.  I use a coffee filter placed into a small strainer to filter out the leaves.
Pour the tea through the coffee filter-lined strainer.
This is what the filtered tea looks like.
Sweeten the tea by mixing the remaining sugar syrup with the tea.
Place a few tablespoons of sweetened boba in the bottom of a tall glass.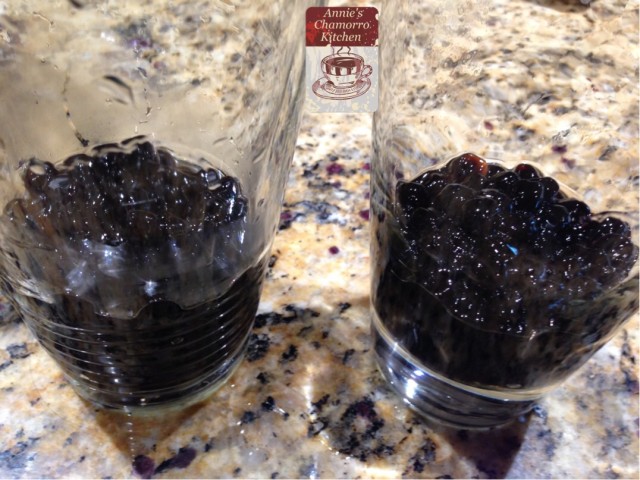 Fill the glass about halfway with the sweetened tea.
Add ice.
Pour 1/8 cup of half-&-half into the glass.  You can also use coconut milk or evaporated milk rather than half-&-half.
Stir the tea, insert a large straw into the glass, and ENJOY! 🙂
To make a blended tea, place two cups of ice in a blender.  Add three cups of sweetened tea and 1/2 cup half-&-half.   Blend until slushy.  Add cooked boba in the bottom of a glass then pour in the slushy tea.  Add a large straw and ENJOY!