Pork & Shrimp Chop Suey with Noodles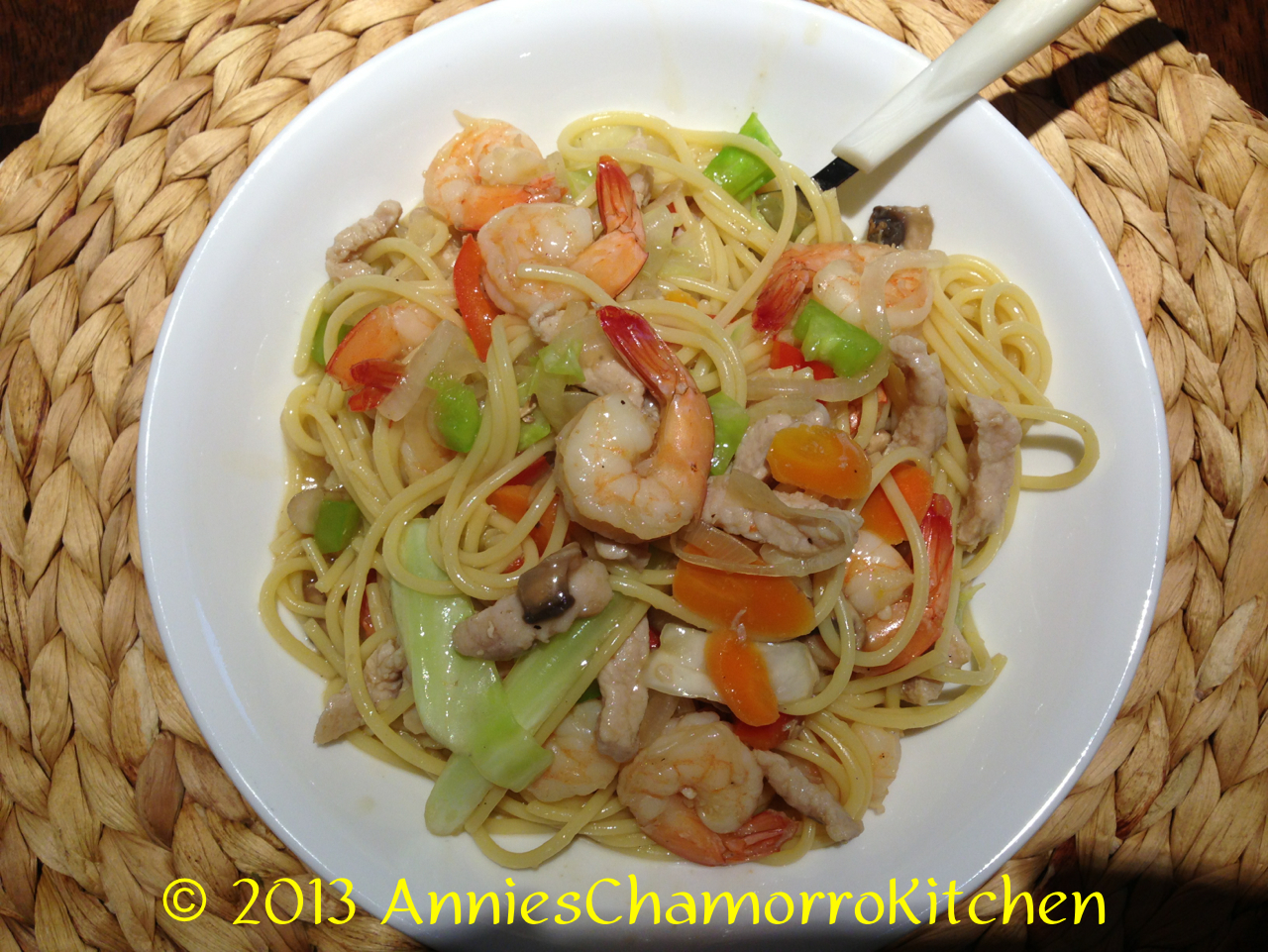 Chop suey most often refers to a stir fried noodle dish, but I like my version of chop suey with a bit of gravy.  I guess my brain refuses to separate spaghetti noodles from sauce, so my chop suey is saucy.  That's got a nice ring to it, doesn't it?  Saucy Chop Suey?  🙂
Anyhow, my recipe is made with slices of pork, shrimp, and a variety of veggies — I like adding carrots, cabbage, mushrooms, peppers, and onions.  My mom adds celery in hers, but that's one vegetable I am not too keen on, so it stays out in my version.
Add your favorite ingredients to make it your own.  Give it a try and let me know how you like it.  🙂
CHOP SUEY
This recipe makes enough to feed a family of four, plus enough leftover for a couple of packed lunches the next day.
Ingredients:
2 pounds lean pork, sliced into 1-inch long strips
2 tablespoons vegetable oil
2 cups carrots, thinly sliced
3 cups cabbage, sliced into 4×1-inch pieces
1 large onion, thinly sliced
2 cloves garlic, minced
1 red bell pepper, sliced
1 green bell pepper, sliced
1 cup sliced mushrooms
2 pounds raw shrimp, shelled and deveined
1/4 cup soy paste (or regular soy sauce will do)
2 beef bouillon cubes
Salt and pepper to taste
2 cups water
3 tablespoons corn starch
1 box spaghetti noodles, cooked per package directions
Directions:
1.  Using a wok or large pan, cook the pork with the 2 tablespoons vegetable oil, about 5 minutes.  Stir occasionally to keep the pork from burning and sticking to the pan.
2.  Add the carrots; stir to mix then cook for another 2 minutes.
3.  Mix in the cabbage and onions; cook for another 2 minutes.
4.  Add the garlic, peppers and mushrooms.  Stir to combine then cook for a minute or two.
5.  Add the shrimp, soy paste, bouillon cubes, and 1/4 cup of water (set the remaining water aside).  Stir then cook for about 3 minutes; the shrimp should begin to turn pink.
6.  Turn the heat to high.  Mix the remaining water with the cornstarch; stir until the cornstarch is completely dissolved.  Pour the cornstarch mixture into the pan, stirring constantly to prevent lumps from forming.  Cook for a minute over high heat; the mixture should start to thicken.
7.  Turn the heat to low.  Add the cooked spaghetti noodles to the pan.  It's easier if you use a pair of tongs to mix the pork mixture with the noodles.  Once the noodles have heated through, remove from the heat and serve.
Enjoy!