Garlic Ginger Vinaigrette
Good salad dressings are quite simple to make.  One of the simplest to make is a vinaigrette, of which the basic components are vinegar and oil.
You can be very creative with this versatile dressing.  Use different flavors of balsamic vinegars, champagne vinegar, or for an oriental flair, try rice vinegar.  If you'd rather have a citrus base for your dressing, try lemon, orange, or grapefruit juice instead of vinegar.
Various oils can give your vinaigrette a whole new dimension.  Use classic olive oil, or try truffle, sesame, avocado, or spicy chile oil.
Now here's where you can go wild with the depth favors you can create for your vinaigrette.  Add optional ingredients such as crushed garlic, honey, dried or fresh herbs, fruit purées, or grated cheese.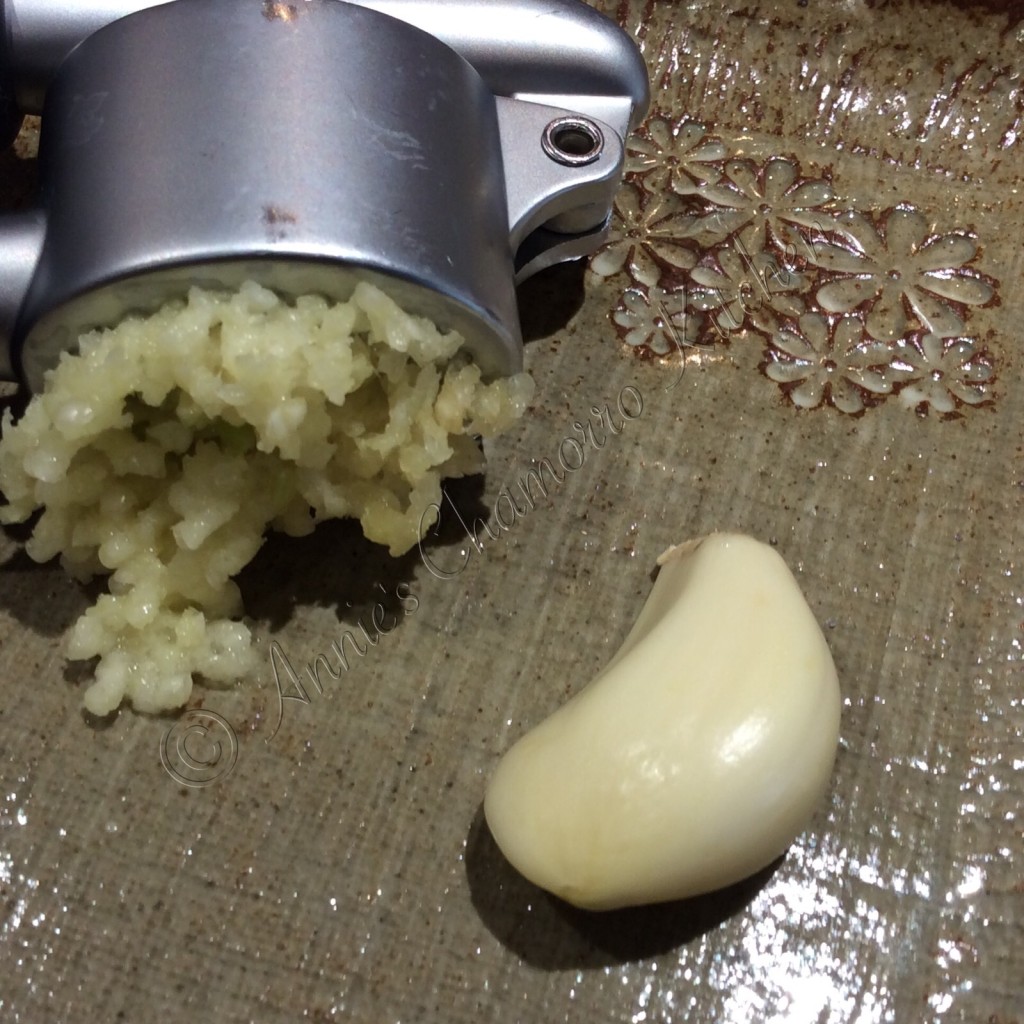 If you'd like a creamy vinaigrette, add Dijon mustard, mayo, or try a bit of mashed avocado.  The variations are virtually endless.  Use your creative imagination and go wild.  Who says salad dressings have to be boring?  An added bonus ~ by making it yourself, you know that you're putting wholesome, natural, quality ingredients into your body.
The inspiration for this vinaigrette is from a favorite Japanese restaurant. To give it that oriental flavor, I use sesame oil, rice vinegar, aji mirin and honey for some sweetness, and for that flavor punch, I add lots of crushed garlic and grated ginger. I also added grated carrots for a bit of added sweetness, and salt and pepper to taste.
You can find my complete recipe below.  Here's how to make it.
In a small mixing bowl, whisk together rice vinegar, aji mirin, honey, garlic, ginger, carrots, salt and pepper.  You can add as much — or as little — garlic and ginger as you like.  If you like your dressings sweeter, by all means, add more honey.  That's the beauty about this type of recipe.  It's all up to you to add/decrease ingredients to suit your taste.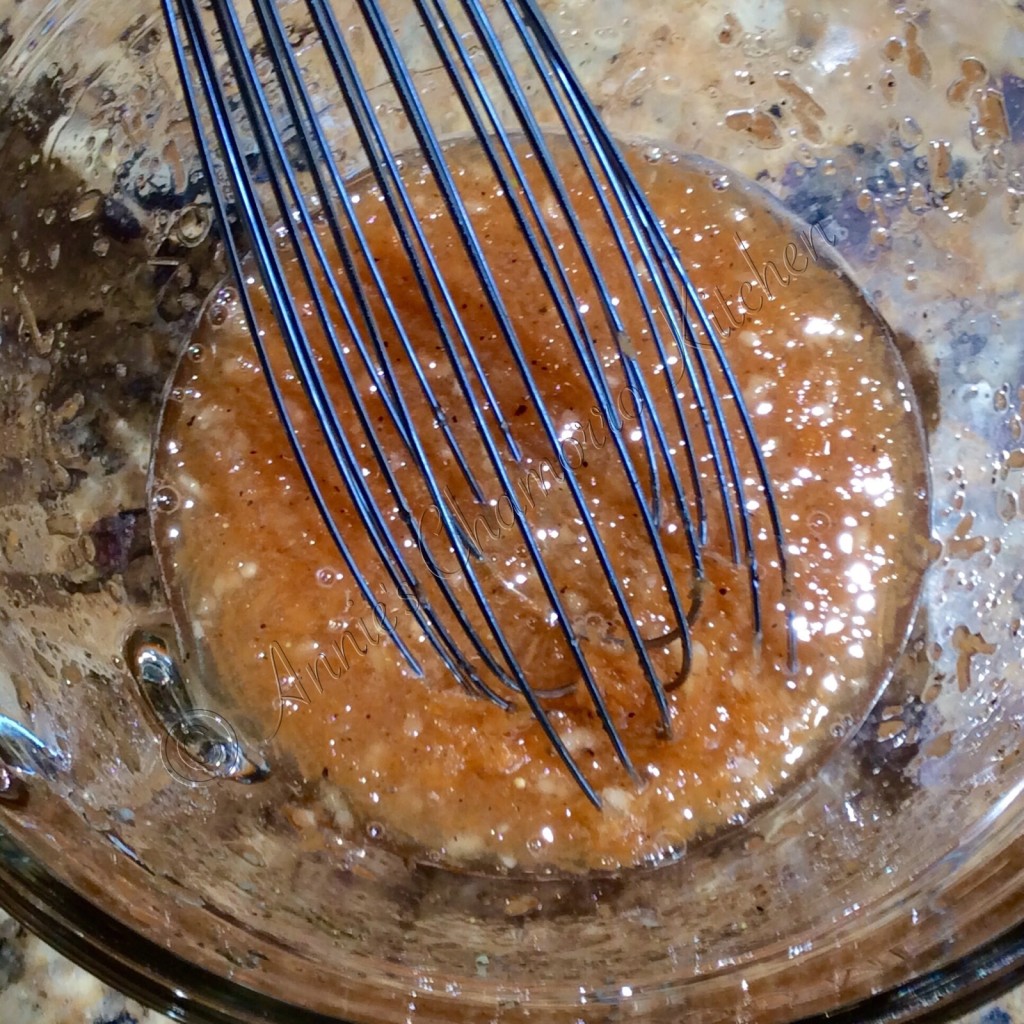 What you do need to remember is that basic vinaigrettes contain a ratio of 1 part vinegar to 3 parts oil. I actually prefer less oil in my vinaigrettes so I use a 1:2 ratio instead.  My recipe uses a one-part mixture of rice vinegar and aji mirin with a two-part mixture of sesame and vegetable oil.
Sesame oil has a very intense flavor and can taste a tad bitter if you use too much of it. I don't want the bold flavor of the sesame oil to overpower the other flavors in this vinaigrette so I use half sesame and half vegetable oil.
Once you mix your vinegar base together, slowly drizzle the oil into the vinegar mixture, vigorously whisking as you pour in order to emulsify the oil into the dressing.
It's the vigorous whisking that breaks down the fat molecules in the oil and allows the vinegar to mix with them, creating a smooth dressing that doesn't separate. You've seen those dressings in the store before, the one where all the vinegar and spices have sunk to the bottom of the bottle and all the oil is floating on top.
TIP: To help with the emulsification, whisk in a spoonful of mustard or mayo.
That's it!  You now have a delicious vinaigrette in minutes!  This recipe makes a little more than 1 1/2 cups of dressing.  Refrigerate any unused dressing
Pour over your favorite salad greens and ENJOY!
Garlic Ginger Vinaigrette
A vinaigrette packed full of the bold flavors of garlic, ginger and sesame oil. Delicious on salads, this dressing is also good as a marinade for your favorite cuts of meat.
Author:
Annie @ Annie's Chamorro Kitchen
Recipe type:
Sauces & Marinades
Ingredients
¼ cup rice vinegar
¼ cup aji mirin
1 tablespoon raw honey
1 tablespoon crushed garlic
1 teaspoon grated fresh ginger
¼ cup grated carrots
½ teaspoon salt, more or less, to taste
¼ teaspoon black pepper
½ cup sesame oil
½ cup vegetable oil
Instructions
In a small bowl, whisk together the rice vinegar, aji mirin, honey, garlic, ginger, carrots, salt and pepper.
Slowly drizzle the oil into the vinegar mixture, vigorously whisking as you pour in order to emulsify the oil into the dressing.