Fresh Salmon Kelaguen
Kelaguen in Chamorro describes a dish that's prepared by mixing the main ingredient (usually chicken, beef, deer, or seafood) with lemon or lime juice, onions, salt, and hot pepper.  Chicken kelaguen is usually prepared with cooked (grilled, broiled or boiled) chicken.  The other types of kelaguen–beef, deer, shrimp, and various types of fish–are most often prepared raw, with the meat or seafood getting cooked with the addition of an acid, usually lemon or lime juice.
Kelaguen is a staple dish at Chamorro parties.  Sometimes, especially on Guam, an entire table is devoted to several types of kelaguen.
Salmon kelaguen is a favorite in our house.  I know, I know…I've said a lot of the dishes I make are favorites.  But really…this one is a REAL favorite (after shrimp kelaguen, that is). 😉
I prefer fresh salmon with this recipe.  If you're in a pinch, canned salmon kelaguen is also tasty, but I still prefer fresh salmon any day.
Give my recipe a try.  If you like sushi, ceviche, or any type of kelaguen, then I know you'll like this. 😀
Fresh Salmon Kelaguen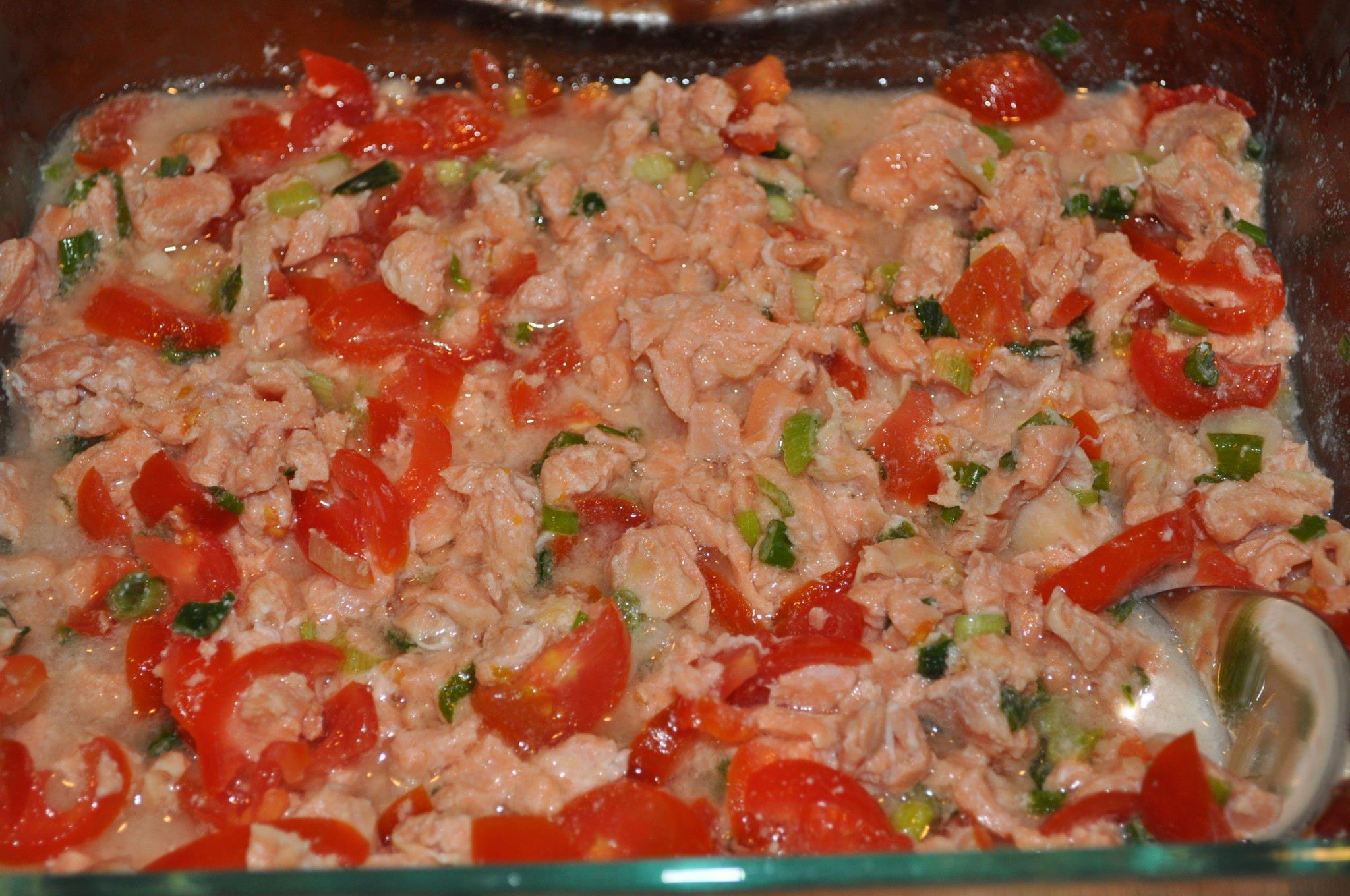 Ingredients:
2 pounds fresh salmon (red salmon, preferably)
4 stalks green onions, sliced
The juice of 5-6 limes, more or less, to taste (or you can use lemon powder, mixed with a little bit of water)

Salt, to taste

1 cup cherry or grape tomatoes, diced

Hot pepper, optional
Directions:
1.  Rinse the salmon filet.  Pull out any salmon bones.  Remove the skin, or leave it on if you prefer.  I like the skin removed for kelaguen.
2.  Cut the salmon into small pieces.
3.  Thinly slice the green onions.
4.  Mix the salmon and green onions together in a small bowl.
5.  Squeeze about 1 cup of lime juice over the salmon and onions.  Sprinkle salt over the mixture; start with about 1 teaspoon.  Stir gently to combine all the ingredients and to dissolve the salt into the lime juice.  Add more or less lime juice and/or salt, to taste.
6.  Stir in the diced tomatoes.  Optional:  Add hot pepper, as much as you like.  Serve with hot rice or titiyas.  ENJOY!