Baked Salmon with Mushroom Cream Sauce
Salmon is one of my favorite varieties of fish. I love it anyway you prepare it — grill it with my teriyaki sauce, make fresh salmon kelaguen, or bake it in my creamy mushroom garlic sauce — I love it all.
This is a super simple recipe to make. It took minutes to prepare, and since salmon cooks quickly, you can have this dish on your table in minutes!
You can lighten up my recipe by using half and half or light whipping cream instead of heavy whipping cream. Here is an approximation of the percentage of fat in half and half, light cream, and heavy whipping cream.
Half-and-Half: 12% fat

Light Cream: 20% fat

Light Whipping Cream: 30% fat

Whipping Cream: 35% fat

Heavy Cream and Heavy Whipping Cream: 38% fat
On a separate note, I've been asked before where you find heavy whipping cream. You'll find it in the dairy section of your grocery store, usually next to the refrigerated coffee creamer and milk. This is what the box looks like.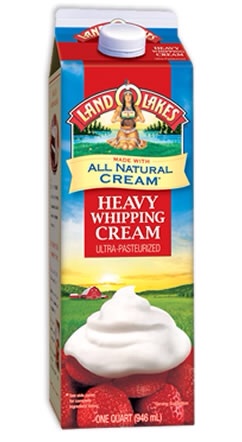 Another healthier — and delicious — alternative to heavy whipping cream is to use coconut milk. Just watch the salmon as it bakes — don't cook it to where the coconut milk begins to boil (boiled coconut milk tends to break down and separate). I recommend adding only enough of the sauce over the salmon to cover it. Set the remaining sauce (unbaked) aside until the salmon is done. Bake as directed then pour the reserved coconut milk and mushroom sauce over the cooked salmon. This way, you don't have to worry about the coconut milk separating should it boil during the baking.
Give my recipe a try. I think you'll like it. 🙂
THM NOTE:
For THMs, this recipe makes about 6 servings, with about 2g of carbs per serving, making this an S meal.
Baked Salmon with Mushroom Cream Sauce
Ingredients:
2 salmon filets (about 4 pounds)

4 cups sliced mushrooms (this sounds like a lot, but it cooks down to half this amount)

2 tablespoons olive oil (or butter)

3 tablespoons minced garlic

3 tablespoons Dashida seasoning OR 1 teaspoon sea salt

1/2 teaspoon black pepper

1 bunch green onions, sliced

2 cups heavy whipping cream
Directions:
Rinse the salmon filets and remove any bones that you can see or feel. Place the salmon, skin side down, in a 9×13 baking dish.
Prepare the mushroom cream sauce.
In a medium sauce pan, place the mushrooms, olive oil, garlic, Dashida (or sea salt) and black pepper.
Cook over medium high heat, stirring occassionally, until the the mushrooms have reduced in volume and have browned nicely.
Stir in the green onions.
Pour in the heavy whipping cream; stir to combine.
Cook the cream sauce for about a minute then remove from the heat.
Pour the sauce over the salmon filets.
Bake at 375 degrees for 15 minutes, or just until the salmon is done (when the salmon flakes easily with a fork). Do not over cook.
This version below was made with half coconut milk and half heavy cream, and cooked in one pan on the stovetop. In a large skillet, prepare the mushroom cream sauce as directed. Add the salmon filets to the pan, skin slide down, making sure the sauce almost covers the filets. Scoop up the mushrooms and place them on top of the filets. Cook over medium low heat for about 30 minutes, periodically scooping some sauce and pouring it over the filets as it cooks.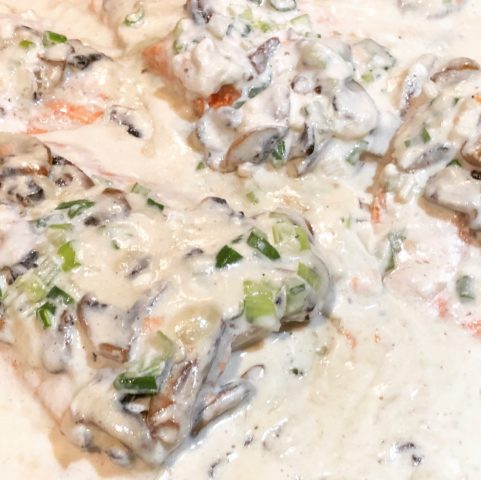 Serve with rice, over pasta, or with a large side salad and enjoy!