Bacon Maple Pancake Muffins
My daughter and I came up with this recipe when we were looking for something to cook for breakfast that wasn't the traditional fried eggs with bacon (and a side of rice, of course).
We also didn't feel like having just plain old pancakes either, but we knew we wanted bacon.  Pancakes appealed to us, but again, we wanted something new and different.
That's when our bacon maple pancake muffins were born.  I already had a very good pancake recipe, but I wanted to incorporate the taste of maple syrup into all aspects of what would become such pretty tasty meal that could very well double as dessert if so inclined.
I did a lot of research on how to make this turn out more than just a plain baked pancake batter.  I found out that maple syrup is slightly acidic, and therefore, I needed to counteract that by adding a bit of baking soda to my batter, in addition to baking powder, in order to get my muffins to rise properly.  As you can see in the photos below, these muffins have an nicely rounded dome.
I also didn't want to serve these with a side of syrup, like we do with ordinary pancakes.  So my daughter and I decided to make a maple buttercream frosting to go on top.  I guess with the addition of the frosting, these muffins can also be called cupcakes.
What's the difference between muffins and cupcakes, you ask?  Well, one school of thought is based on the ingredients used.  I've read that using more than a stick of butter and one egg makes a recipe a cake.  In my recipe, I use one stick of butter and one egg, so that's why I call them muffins.  On the other hand, like I mentioned above, another school of thought is that if you add any type of frosting to this, it's a cupcake.  So…what does that make my recipe….maybe I should call them muffincakes or cupcakins.  Hahaha … or maybe not.  😉
I think we should just call it DELICIOUS.  Give my recipe a try.  I think you'll like it.  🙂
Bacon Maple Pancake Muffins topped with 
Maple Buttercream and Bacon Sprinkles
Scroll all the way to the bottom for my complete recipe.  Each of the following photos describes my step-by-step process.
Mix the dry ingredients together.
In a separate mixing bowl, roughly cream the butter and sugar together.
I left a stick of butter on the countertop overnight to ensure it was softened in the morning.  You don't need to use a whisk or mixer to cream the butter with the sugar.  I used a fork to do this since the butter was so soft.  *Note:  Do not use melted butter.
Mix the egg into the butter-sugar mixture.  I pulled out a whisk to mix in the egg, but you can do this with a fork as well.
This is what the egg-butter-sugar mixture looks like after mixing.
Pour in the milk, maple syrup and vanilla exract.  There's no need to mix — you're going to dump this in with the dry ingredients and mix it there.
In this step, stir the dry ingredients together to ensure the baking soda, baking powder and salt are mixed in with the flour.  The only equipment you need for this step is a mixing spoon.  Do not use an electric mixer — you only need to stir this for a few times to get the proper consistency.  In fact, over mixing this batter will make your muffins turn out tough and dense.
Pour the liquid ingredients into the the bowl with the dry ingredients.
Use a mixing spoon to mix it all together.  About 50 strokes should do it.  It's okay if there are a few lumps in the batter.
Crumble your cooked bacon ahead of time.  Half of it will go into the batter, the other half will be used to sprinkle on top the frosted muffins.
Fold the bacon crumbles into the batter.  This is important:  DO NOT let the batter sit.  You want to bake this as soon as possible after mixing.  This is because once you've added the wet ingredients to the dry, the baking soda and baking powder start to work their magic and the batter will begin its "rising" process.  You don't want it to rise while sitting in your mixing bowl–you want this magic to take place in the oven so that you have nice tall muffins with a rounded top.
It's a good idea to line your muffin tin ahead of time, so that you can immediately scoop your batter into them as soon as you're done mixing it.  You'll have just enough batter to make 12 muffins.  Use slightly less than 1/3 cup of batter in each muffin cup.
Bake the muffins anywhere between 15-20 minutes.  The baking time will vary, depending on your oven.  My oven (not to mention I live at a relatively high altitude) tends to take a little longer to bake things.  I check for doneness about 2 minutes prior to the minimum cooking time.  In this case, I used a toothpick to test for doneness at the 13-minute mark.  My muffins were still a bit wet, so I baked them for an additional 5 minutes.
The extra 5 minutes of baking did the trick.  The muffins should be a golden brown.  A toothpick inserted into the middle should come out clean, although a few crumbs sticking to it is okay.  Let the muffins cool completely before adding your frosting.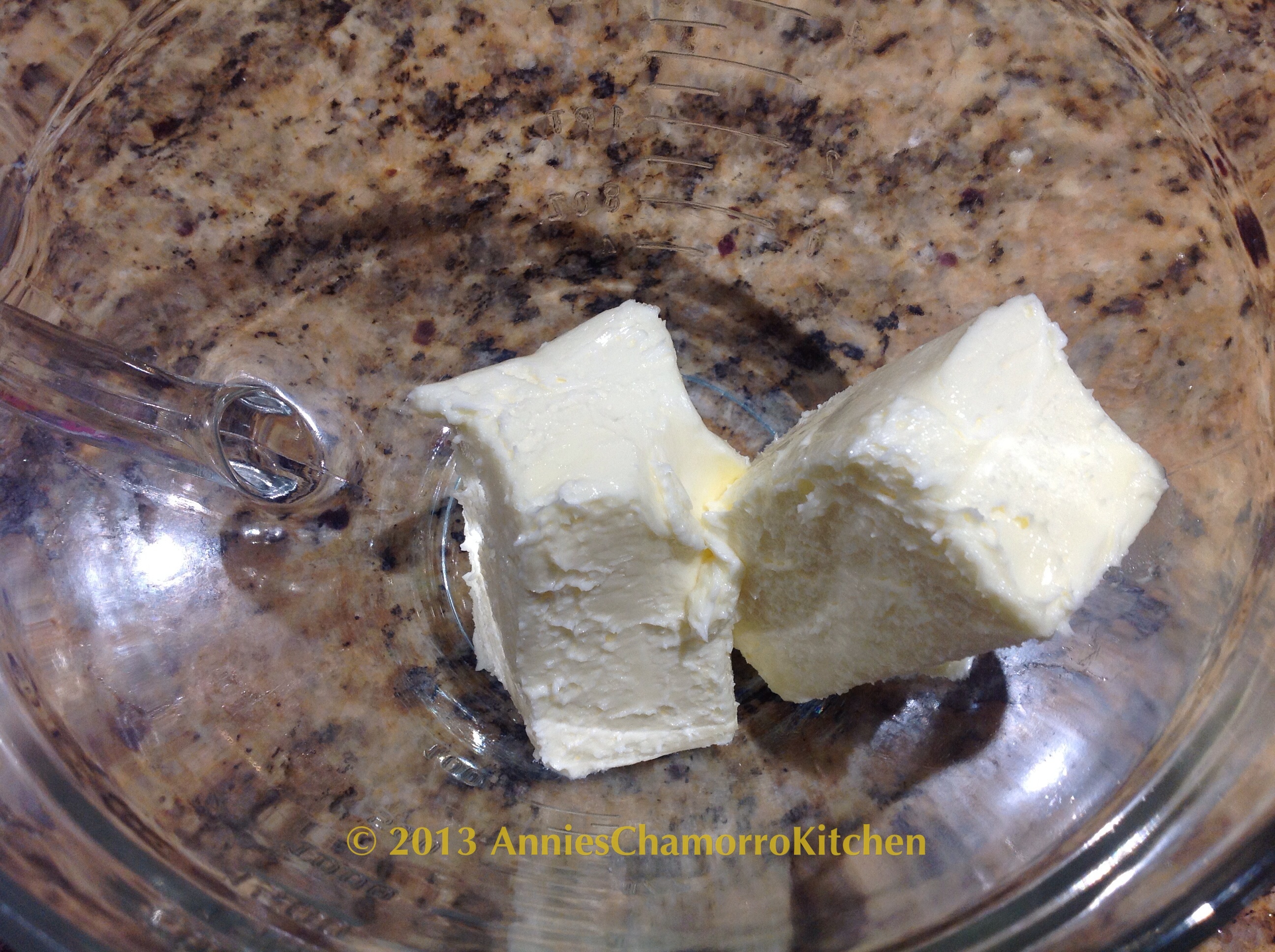 Make the frosting while the muffins are cooling.
I also left these two sticks of butter out overnight to completely soften.
You WILL need an electric mixer to make the frosting.  Because the butter is already soft, you don't need to beat it.  I just turned my mixer on to low speed for a few seconds to spread the butter out a bit.
Mix in the maple syrup and milk.
Sift in the powdered sugar — I used a strainer to do this, but a flour sifter works well too.
This shows 2 cups of sifted powdered sugar.  My recipe calls for up to 4 cups of sugar — I only used 2.  You can use 3 or even the entire 4 cups of sugar if you like (it will be really sweet if you do).  The added sugar also serves to make your frosting stiffer, which is what you want if you plan on using a piping bag and decorating tip to decorate your muffins.  I didn't want to do this with this batch — a softer frosting was good enough here since I only planned on using a small cookie scoop to scoop out enough frosting to top each muffin.
Mix the sugar into the butter mixture until smooth and creamy.  Frost your muffins once they are completely cooled off; the frosting will melt if the muffins are still warm.
I used a small cookie scoop to place even amounts of frosting on each muffin.  Slightly spread out the frosting to ensure the top of the muffin is covered.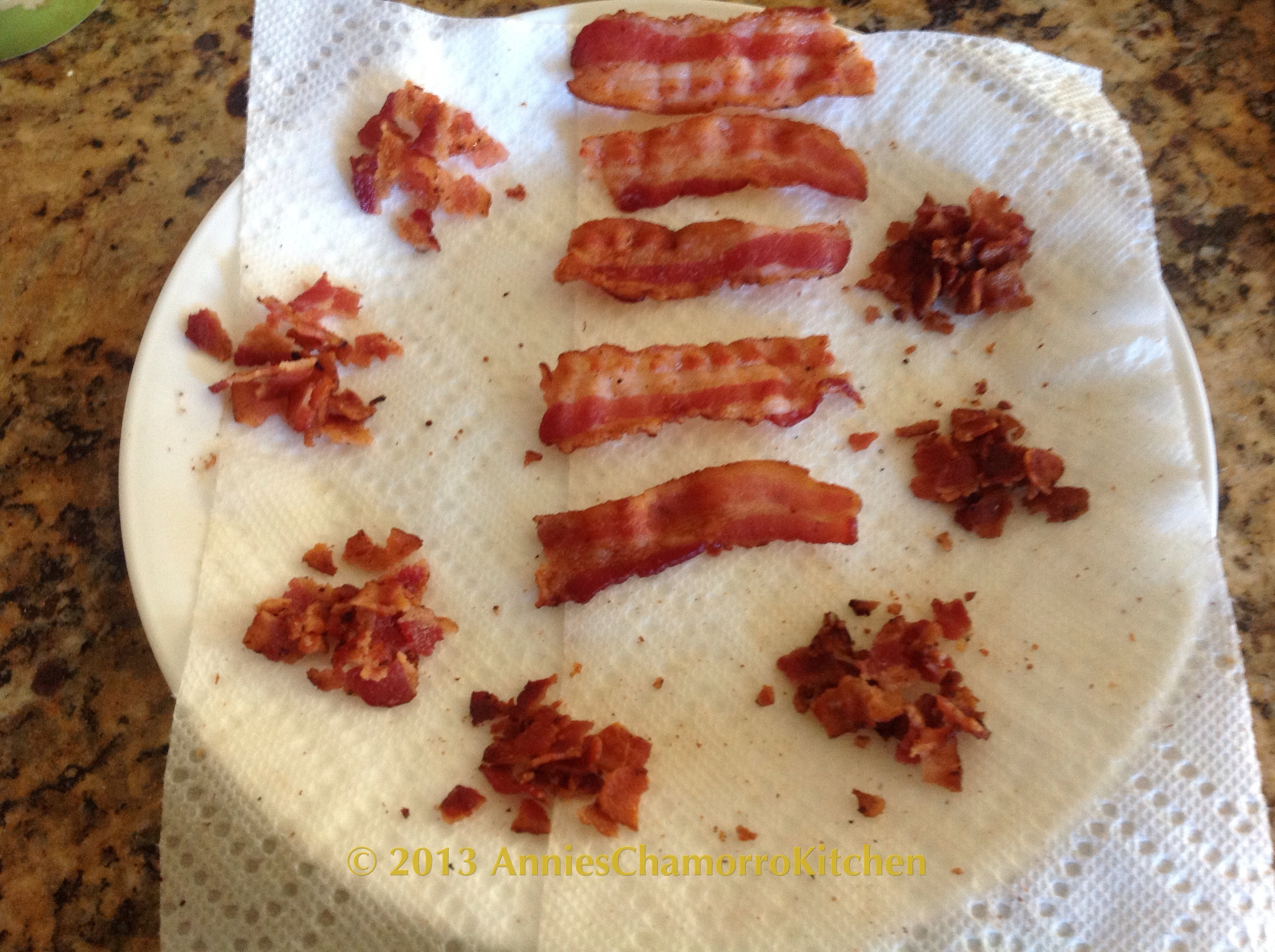 I suffer from a mild case of OCD.  I wanted to ensure that each muffin had equal amounts of bacon crumbles, so I broke each of remaining 6 bacon strips in half, then made 12 little piles of bacon crumbles.  (Don't judge me.  LOL)
Top each muffin with bacon crumbles.
♬ ♩ ♫  ♪     Ta daa!!!!!!     ♬ ♩ ♫  ♪
This is what the inside looks like — fluffy and moist.  And, as you can see on top, there is ample frosting on top.  These muffins are delicious without the added frosting, by if you are in mood to indulge, don't skimp on the frosting.  All in all, these muffincakes are absolutely DELICIOUS!  Decide for yourself; give my recipe a try.  🙂
Bacon Maple Pancake Muffins with Maple Buttercream Frosting
These muffins are the perfect combination of sweet and savory. Perfect for breakfast, they also double as a dessert.
Ingredients
Muffin Batter
2 cup all purpose flour
1 tablespoon baking powder
½ teaspoon baking soda
½ teaspoon salt
1 stick butter
3 tablespoon sugar
1 large egg
½ cup maple syrup
1 tablespoon vanilla extract
1 cup milk
6 thin slice maple bacon
Maple Buttercream Frosting
2 stick butter
2 tablespoon milk
6 tablespoon maple syrup
2-4 cup powdered sugar
Topping
Instructions
Muffin Batter
Place the flour, baking powder, baking soda and salt in a medium sized mixing bowl. Stir to mix all the ingredients together. Set aside.
In a smaller mixing bowl, cream together the butter and sugar. Mix in the egg. Add the maple syrup, vanilla extract, and milk (there is no need to stir).
Pour the wet ingredients into the bowl of dry ingredients. Using a mixing spoon, stir to combine, about 50 strokes. Do not over mix; a few lumps remaining are okay.
Fold in the bacon crumbles.
Pour slightly less than ⅓ cup of batter into each well of a muffin tin lined with paper liners. Bake in a preheated 350 degree oven for 15-20 minutes. Check for doneness at around 13 minutes. A toothpick inserted into the center of a muffin should come out clean (a few crumbs are okay). The muffins should be golden brown in color when done. Do not over bake.
Maple Buttercream Frosting
Cream the butter and sugar together in a small mixing bowl.
Add the maple syrup and milk to the butter-sugar mixture. Mix to combine.
Mix in the sifted powdered sugar, starting out with only 2 cups of sugar. Add more sugar to make a stiffer frosting (which is good if you're using cake decorating tips). Less sugar yields a creamier frosting. Frost the muffins after they've completely cooled off.