Chamorro Special Sauce — that's what my non-Chamorro friends call fina'denne', the literal translation of which means made with pepper or donne', the Chamorro word for hot chili pepper.
Fina'denne' is a staple in most Chamorro homes.  It's served with most meals.  Pour it over your freshly steamed rice or over your meat of choice.  It's sure to enhance your dining pleasure. 🙂
There are many, many ways to prepare fina'denne'.  Soy sauce is usually the main ingredient; however, depending on the type of dish being served, you may choose to use salt instead.  For instance, I prefer a salt-based fina'denne' over grilled fish, but I love a soy sauce-based fina'denne' over fried fish.
The acidic ingredient is all up to you as well.  You can use white vinegar, cider vinegar, coconut vinegar, lemon juice or lime juice…it's all up to you.  My brother, for example, likes only lemon or lime juice in his fina'denne'.  I, on the other hand, like to vary the acid I use depending on what I'm eating.  I mentioned fish above…I like a soy-lemon fina'denne' with fried fish, and either a salt-lemon or salt-white vinegar fina'denne' with grilled fish.
I also like using white vinegar when I add tomatoes to my fina'denne.  Tomatoes and vinegar pair really well, you know, like how a vinaigrette dressing goes great with a tomato salad.
Be sure to taste as you go…you might like your fina'denne' more on the salty side, or you might prefer it a bit more sour (which is how I like it).
I like a 1:1 ratio of soy sauce to vinegar.  My husband prefers his fina'denne' on the salty side, so when he makes it, he uses a 2:1 ratio of soy sauce to vinegar.  In other words, if I were to make a cup of fina'denne, I'll use 1/2 cup soy sauce and 1/2 cup vinegar.  My husband, on the other hand, will make his using 1/2 cup soy sauce and 1/4 cup vinegar.
Try making different varieties of fina'denne' and decide for yourself your personal preference. But by all means, give it a try.  I'm sure you too will love it. 🙂
Fina'denne'
Ingredients:
Soy sauce, to taste (you can substitute the soy sauce with salt)
Vinegar, to taste (you can use any type of vinegar, or you can use lemon or lime juice)
Optional ingredients:
Green onions, as much as you like
White onions, diced, as much as you like
Hot chili peppers, as much as you can stand
Cherry tomatoes, diced or sliced
For this batch of fina'denne', I used:
1/2 cup soy sauce
1/2 cup vinegar
1 jalapeño pepper
2 Serrano chili peppers
4 stalks green onions
1/2 cup cherry tomatoes
Directions: 
In a small bowl, mix together the soy sauce and vinegar (or lemon juice if you prefer).  
I like adding hot green chili peppers to my fina'denne', charring them slightly.  You don't have to char the peppers, but doing so brings out so much more of the pepper's flavor.  I grilled these peppers over the flame of my gas stove.  Use a metal skewer to keep the peppers together; it also makes it easier to turn the peppers over to ensure even grilling.
My mom and one of my sisters loves using the red, super-hot Thai peppers in their fina'denne'.  Those are great too, but beware!  Those suckers are MOUTH-ON-FIRE H-O-T!!!
Slice the peppers then add them to the bowl.
Add the onions.  I used green onions here, but you can use white or yellow onions too.
Add the tomatoes.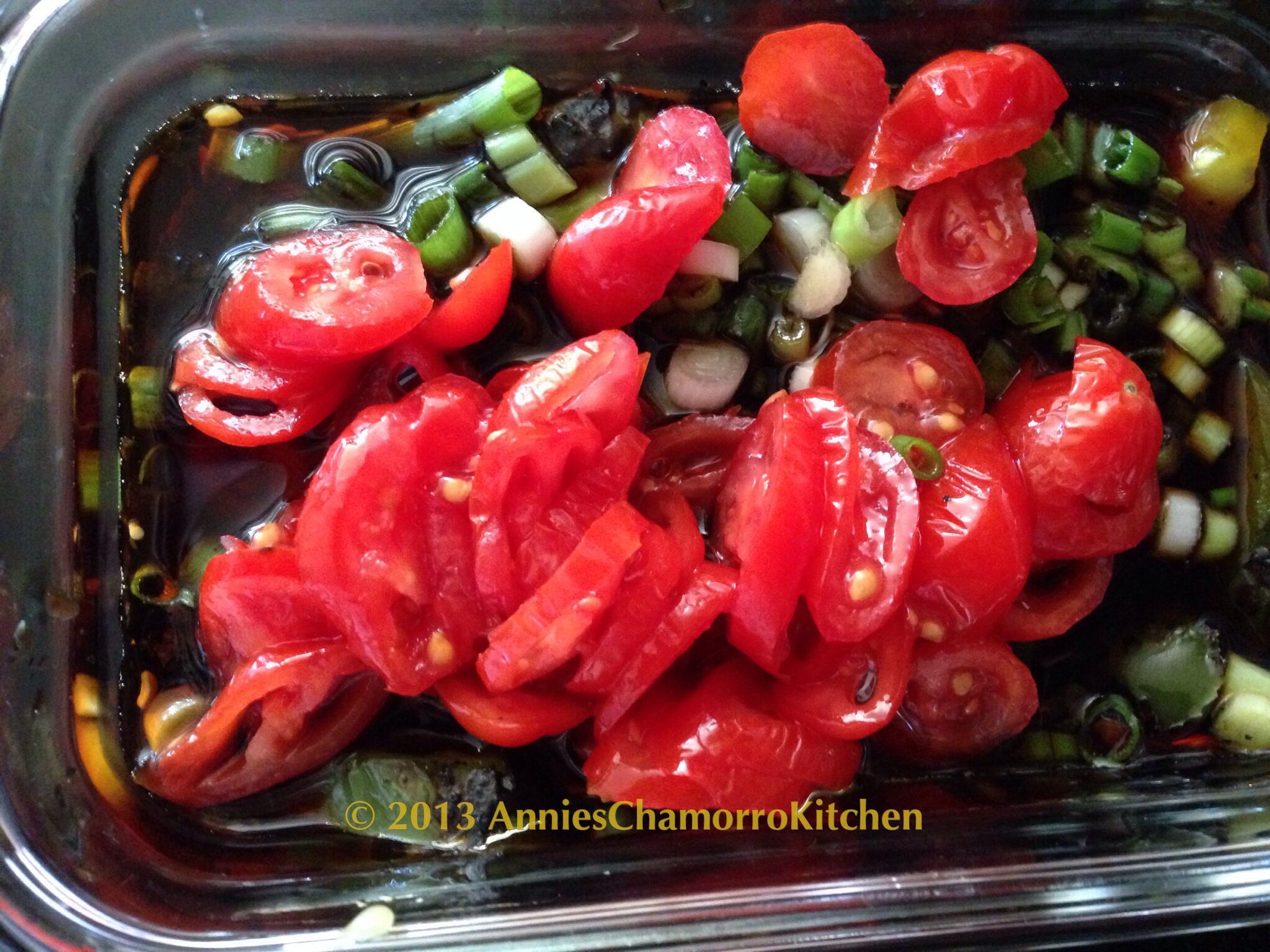 Stir to combine.
Pour over your rice and meat and dig in! ENJOY! 🙂
Here's a great tip:  for fina'denne' at your fingertips and ready when you want it, buy a plastic squeeze bottle and fill it with fina'denne', the liquid mixture only.   Squeeze bottles are sold at most grocery stores, but I bought this one at our local Korean store.  Add onions, tomatoes and peppers on the side when you're ready to serve up your meal.