Homemade Beer Chili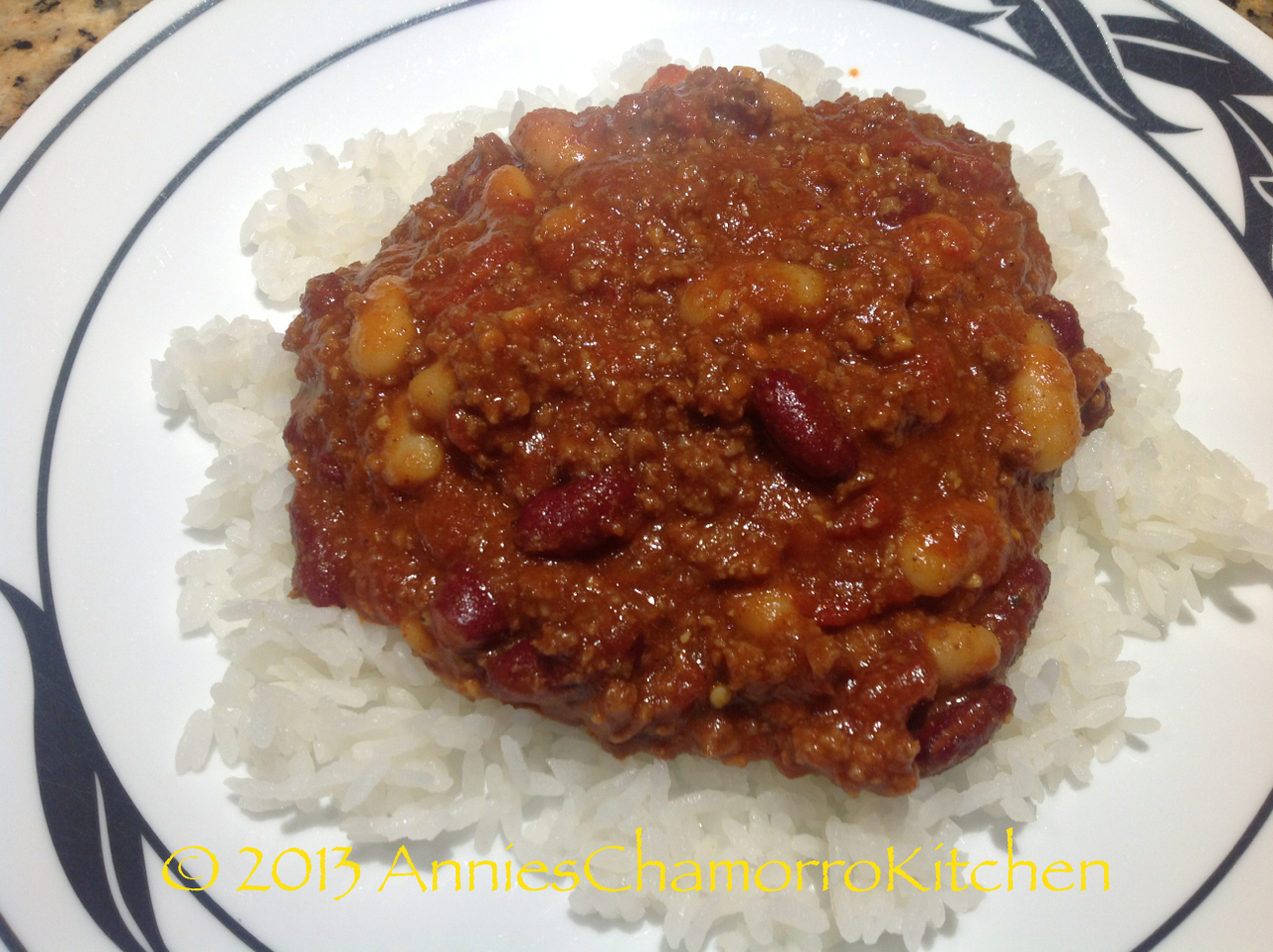 2 lb ground beef
6 tablespoon Dashida beef flavored seasoning
1 medium onion
2 tablespoon minced garlic
12 oz beer
3½ tablespoon chili powder
1 tablespoon smoked paprika
1 can (28-oz) crushed tomatoes
1 can (28-oz) diced tomatoes
1 cup crushed tortilla chips
2 can (15.5-oz) white kidney beans
2 can (16-oz) dark red kidney beans
4 tablespoon grated Parmesan cheese
1 tablespoon brown sugar
salt and black pepper
jalapeño peppers
Place the ground beef in a large pot. Add the Dashida; stir.

Add the onions to the pot.

Cook over medium high heat until the meat has browned. I like using this utensil from Pampered Chef -- it's used to break up the ground beef into smaller pieces as you cook it (I switch to a cooking spoon after the meat has browned).

Pour in the beer. I like using a good ale, but you can use your favorite beer. Turn the heat up to high and bring to a boil. Stir occasionally. Keep the heat on high until the liquid in the pot has dried down and the alcohol has cooked out.

Add the chili powder. Stir to combine.

Add the paprika. Stir to combine.

Add both cans of tomatoes (crushed and diced) to the pot. Stir to combine. Reduce the heat to medium.

Add the crushed tortilla chips to the pot. Stir to combine.

Add the beans and stir. Keep the heat at medium; cook, uncovered, until the mixture returns to a boil. The crushed chips should have softened and dissolved into the mixture by now, thickening it up quite a bit.

Add the Parmesan cheese; stir. I like adding grated cheese to this recipe. It adds a bit of saltiness and gives it added depth of flavor.

Add the brown sugar; stir. The brown sugar adds another layer of flavor in my recipe. I find it also balances the saltiness from the Dashida and grated Parmesan cheese, as well as compliments the spiciness from any added chili peppers (optional).

At this point, you can stir as much hot chili peppers you like. My kids don't like spicy chili so I don't add it.

Serve over hot rice, or in a bowl with a side of your favorite chips (we like Fritos or Doritos with this). Enjoy!