Ham Hocks with Mongo (Mung) Beans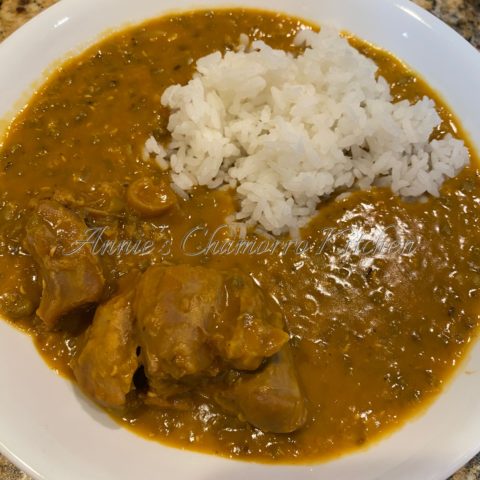 Author:
Annie @ Annie's Chamorro Kitchen
1 bag mung beans
1 tablespoon Dashida seasoning
1 tablespoon onion powder
1 tablespoon garlic powder
1 teaspoon black pepper
Water (initially, 2 inches above the level of beans)
1 package ham hocks (smoked, if you can find it), about 3-4 large pieces in a package
Water
1 medium onion, diced
4 cloves garlic, chopped
½ cup soy sauce
¼ cup vinegar
Black pepper, to taste
1 package achote powder
½ teaspoon liquid smoke (omit if you are using smoked ham hocks)
1 can coconut milk
Place the beans in a medium sized bowl. Add water to 2 inches above beans and soak overnight. The next morning, pour out any remaining soaking water. Rinse the beans and drain.
Place the soaked beans in a medium sized pot. Add more water, again up to 2 inches above the beans. Bring to a boil then simmer (covered) for one hour. Add more water if required. Note: you shouldn't need to add more water if you've soaked the beans overnight.
Place the ham hocks in a large pot. Add water to cover the ham hocks. Bring to a boil and cook for 30 minutes. Drain the water.
Repeat once more (add water, cook 30 minutes, drain).
Cut the ham hocks into smaller pieces and return to the pot.
Add diced onions and garlic to the pot, as well as the soy sauce, vinegar and black pepper. Add liquid smoke if you are not using smoked ham hocks.
Cook over medium-low heat until the liquid has dried down.
Add more water (add as much as you'd like for a soup) to the pot (I added 3 cups of water). Cook for a few minutes to allow the water to heat up.
Add the achote powder; stir until the powder dissolves in the water.
Add the mung beans to the pot. Taste and adjust your seasonings.
Reduce the heat to low. Simmer for 45 minutes to one hour, or until the ham hocks are tender. Add water periodically if the liquid is drying down too much.
Stir in the coconut milk when the ham hocks are tender.
Recipe by
Annie's Chamorro Kitchen
at https://www.annieschamorrokitchen.com/ham-hocks-with-mongo-mung-beans/